HSI Newsletter | August 2019
AT UC DAVIS
Prep Medico Graduates its 2019 Class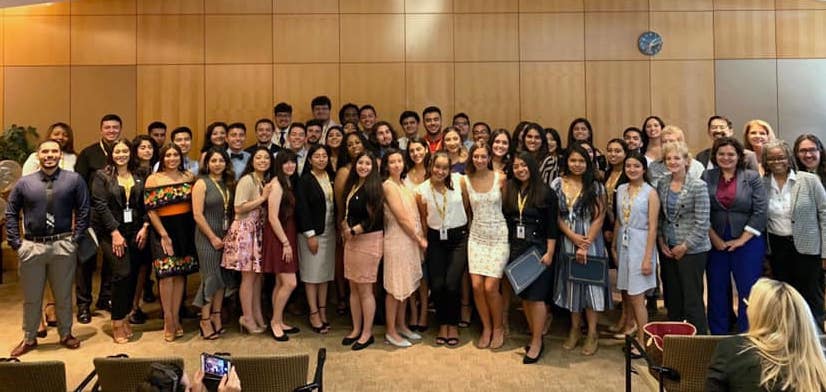 On Saturday, July 27, the UC Davis School of Medicine's six week summer Prep Médico program graduated its 2019 cohort of undergraduate students pursuing their dream of becoming doctors.
This six-week residential pipeline program for freshman and sophomore college students interested in becoming physicians helps students navigate their educational journey towards medical school and provide exposure to the world of patient care.
Read more here about the program and one young scholar's experience in the program.
HSI Grants Submitted
UC Davis has submitted three HSI federal grants: one by the Student Farm to the US Department of Agriculture focused on culturally sustaining agriculture education for Latinx undergraduates; one by the School of Education to the Department of Education focused on educating bilingual STEM K-12 teachers, and a second to the Department of Education focused on the success of Medical Students who can serve Latinx communities. We will keep you posted the status of each.
Grad Scoop
On July 26, the Diversity Team in Graduate Studies hosted the 6th annual Grad Scoop, an event for Northern California students to interact with faculty, graduate students and staff about preparing and applying to graduate student, and equally important, how to be successful. More than 200 students, including many Rising Scholars, attended the event. AVC Aldana spoke at the event and you can read her remarks here.
HSI Forums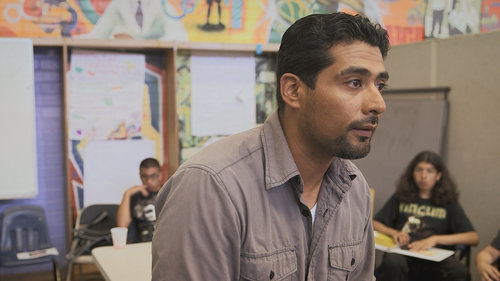 The Office of Diversity, Equity and Inclusion is organizing two HSI-focused forums in the fall and spring of the upcoming academic year. In the fall, in partnership with the Keith Aoki Center on Critical Race and Nation Studies and the Beyond the Stats Initiative,  we will host Professor Victor Rios of UC Santa Barbara to comment on the documentary THE PUSHOUTS. And the second will be an interview with California Supreme Court Associate Justice Mariano-Florentino Cuéllar as part of the UC Davis Forums on the Public University and the Social Good. We will send out more information as soon as details are confirmed.

CAMPOS/CAMPSSAH Induction Ceremony
On Tuesday, October 29, the Office of Diversity, Equity and Inclusion will host an induction ceremony at the Manetti Shrem Museum for our newest cohort of scholars into the Center for the Advancement of Multicultural Perspectives on Science (CAMPOS) and the Center for the Advancement of Multicultural Perspectives in the Social Sciences, Arts, and Humanities (CAMPSSAH). We will send out more information as soon as details are confirmed.
¡MURALES REBELDES!
California Museum | July 25 - December 29, 2019
¡Murales Rebeldes! L.A. Chicana/o Murals under Siege explores the historic censorship, whitewashing, neglect and destruction of Southern California murals from the Chicana/o Movement. Used to express pride and to challenge the status quo, the murals gave the Mexican American community a voice during an era of limited representation.
California Legislature Passes Bill that Could Help non-AB540 Qualifying Undocumented Students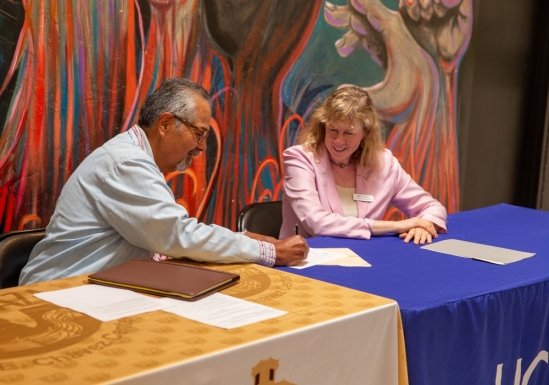 On July 9th, the California state government approved a higher education budget trailer bill SB77, which includes a provision that allows UCs to provide non-state-funded private scholarships to any of their enrolled students. This is good news because until now undocumented students that are ineligible for AB540 and therefore ineligible for California Dream Act, were also ineligible for AB130 portion of California Dream Act that allows them to apply and receive institutional private scholarships.
Sister UC Campus Santa Barbara New Home for La Casa de la Raza's Historical Archive
At a public reception July 11 at La Casa de la Raza, representatives from the library and from La Casa signed an agreement that will ensure the historical records of this community-based organization will be archived, preserved and made accessible in the library's Special Research Collections.
Ignacio/Nacho Alarcón Appointed Assistant Director of UC Davis's AB540 and Undocumented Student Center
Read more about a recent addition to the UC Davis family here!
"Latino Physician Shortage in California: The Patient Perspective"
This policy brief, authored by UCLA's Latino Policy & Politics Initiative expert Dr. Arturo Vargas Bustamante builds on LPPI's groundbreaking analysis on the lack of Latino doctors, MD students, and medical residents in California, to explore how patients feel about the quality and experience of their health care in a state that has a severe shortage of language-capable and racially diverse physicians.  
Download the full report here.
"Envisioning an Ideal Health Workforce Data System for California"
Seven million Californians, the majority of them Latino, African American, and Native American, live in areas experiencing shortfalls of primary care, dental care, or mental health care providers. Without accurate, robust and timely health workforce data, the state will be unable to adequately address these challenges. Healthforce's publication Envisioning an Ideal Health Workforce Data System for California, proposes recommendations to create a system to monitor trends in supply and demand for health care workers and health professions education.
You can find a summary of and the full report on the UCSF Healthforce Center website here.
More Latinx Students, Stagnant Latinx Presidents
From Inside Higher Ed - Despite increasing growth of the Latinx student demographic, the number of Latinx presidents has stayed roughly the same for decades -- something many administrators hope can be addressed. Read the full article here.
Do you have some HSI news to share? Please send to Tom O'Donnell (twodonnell@ucdavis.edu) for inclusion in our next edition.
Tags