Christopher Nguyen Pheneger
Diversity and Inclusion Educator and Specialist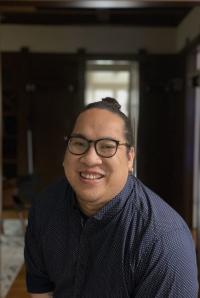 As a Diversity and Inclusion Educator and Specialist I provide training and curriculum development and facilitation of the diversity, equity and inclusion (DEI) education program. I joined the Office of the Vice Chancellor for Diversity, Equity, and Inclusion in 2021, where I develop and facilitate educational and professional development around DEI topics for diverse audiences from various academic and administrative departments across UC Davis and UC Davis Health Services. I also assist in the development and implementation of strategies to operationalize the UC Davis Principles of Community and the UC Davis Diversity and Inclusion Strategic Vision.     
Prior to joining the Vice Chancellor's Office I served as a Program Coordinator and First-Year Seminar Lecturer for Full Circle Project, an AANAPISI Grant-funded program aimed at supporting Asian American and Pacific Islander students at CSU Sacramento. I've also served as a Student Support Specialist for UNITE, a center that provides programs focusing on critical consciousness, social justice education, equity, and cultural empowerment for students, staff, and faculty at American River College. I've had the opportunity to serve on conference planning committees and facilitate pre-conference and general sessions at conferences, including APAHE, NASPA, and NCORE, on the experiences and needs of transracially adopted students, sustainable learning communities, mentorship, and the experiences of API students in higher education institutions. I received my B.A. in Gender, Sexuality, and Women's Studies from the University of California, Davis, and my M.A. in Higher Education and Student Affairs from the University of San Francisco.
I enjoy spending time with family and friends, hiking, cooking and dancing. My guilty pleasure is marathoning anime or Korean dramas over a tub of ice cream. 
Why I Do DEI Work
Growing up as a young queer, Asian American transracial adoptee from Vietnam, I often struggled with finding a sense of belonging and feeling enough in my identities. I often did not feel Asian enough, American enough, man enough, or smart enough, and therefore often felt like I did not belong, depending on the context. In my personal, academic, and professional development I've come to better understand how systems and structures have shaped my experiences and informed my feelings of belonging and enoughness. I come to DEI work with knowledge of the histories and communities that make up the social landscape of the United States and a complex awareness of how my identities are implicated against that landscape. I engage in DEI work to transform our social landscape and cultivate belonging for all of the individuals that make up our organization and community.
Motto/Hashtag
"The only way to survive is by taking care of one another." - Grace Lee Boggs
"There is always light, if only we're brave enough to see it. If only we're brave enough to be it." - Amanda Gorman
Social Media
https://linktr.ee/ChristopherNguyenPheneger