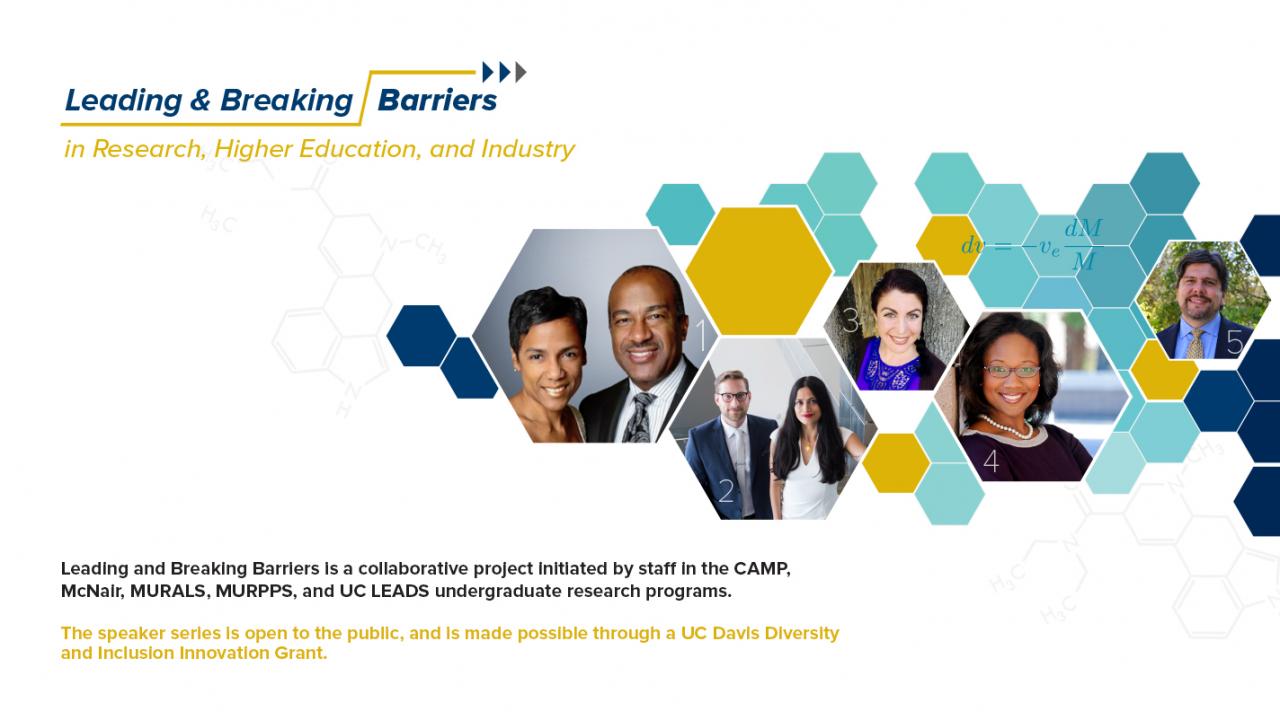 Location
Student Community Center, Multipurpose Room
Leading and Breaking Barriers is a dynamic speaker series promoting participation in undergraduate research. With outstanding, diverse speakers from academia and industry, the Leading and Breaking Barriers speaker series will share stories and practices of leadership innovation in STEM fields to inspire students to discover research, and to overturn stereotypes and misperceptions about what research is and who can participate in it.
Events are open to everyone – students, staff, faculty, and the community.
The Path is Made by Walking: Diverse Paths to Science Fuel Creativity and Help Communities
"Caminante, no hay camino, se hace camino al andar." - Antonio Machado
"Traveler, there is no path, the path is made by walking.
Rebecca Calisi Rodríguez, PhD
Assistant Professor of Neurobiology, Physiology, and Behavior
University of California, Davis
Rebecca Calisi Rodríguez is an Assistant Professor of Neurobiology, Physiology and Behavior at UC Davis. She studies how the brain controls sexual behavior and reproduction, and how stress can affect these processes. However, being a scientist and professor were not originally her intended path. Hear about Calisi Rodríguez' non-traditional journey into research, and how her love of family, community, and diversity inspires her to do what she does. 
Calisi Rodríguez was awarded her B.A. from Boston College in 2001, her M.S. from the University of Texas at Arlington in 2006, and her Ph.D. from the University of California, Berkeley, in 2010. As a postdoc, she was awarded a National Science Foundation Postdoctoral Fellowship (2010-2013) and the University of California President's Postdoctoral Fellowship (UC Berkeley, 2013-2014). She was a faculty member in the Biology Department of Barnard College of Columbia University from 2014-2015 before being recruited to join the faculty of UC Davis in 2015.  Dr. Calisi is a Faculty Scholar of UC Davis' Environmental Health Science Center and the UC Davis Center for Advancement of Multicultural Perspectives in Science. Her lab is currently funded by the National Science Foundation. You can learn more about her research and commitment to supporting diversity in science at www.rebeccacalisi.org. You can also follow her on twitter at @BeccaCalisi.
About the Series:
Leading and Breaking Barriers is a speaker series created by Lolita Adkins, Program Manager in the Undergraduate Research Center and funded by a Diversity and Inclusion Innovative Grant.  The series is a collaborative project by staff in the CAMP, MCNAIR, MURALS, MURPPS, and UC LEADS undergraduate research programs. 
The series is co-sponsored by the Undergraduate Research Center, and receives additional support from Undergraduate Education, and various departments.