HSI Newsletter | May-June 2019
This May marks the one year anniversary of Chancellor May's charge for our committee. Spring quarter is nearly done, and the academic year will soon come to a close, but our work continues! As we celebrate the transition of our work into the implementation phase, we are pleased to tell you about the many activities that are happening around the HSI Initiative.
Raising Campus Awareness 
Since we last emailed you, we were pleased to work with our Strategic Communications unit to issue a news story on UC Davis dateline, which is disseminated to all members of our campus communities. Read the article here. Now that the report is public, we have launched an educational campaign around the HSI Taskforce Report that began with a formal presentation to the Chancellor's Leadership Council. We plan to do a similar presentation to the Provost Leadership Council, and we have done several with faculty, students, and alumni.  We have also been invited by the Provost to organize a UC Davis Forum on the Pubic University and Public Good.  We are considering a focus on the 30-mile radius commitment we have discussed and really welcome your ideas on this.  We also encourage you to share the report in your own spaces and networks. Chancellor May has also signaled his interest in a formal launch of the Report once the new academic year arrives.
Implementation Efforts
Task Force members Carolyn Thomas (Chair), Daniel Potter, Sheri Atkinson, and Raquel Aldana have been invited to serve on the Tiger Team Taskforce, which has been formed to implement reforms and interventions to close achievement gap based on several important campus reports that took deeper dives on these issues. There is alignment with the work of this Taskforce on issues that include pre-matriculation programs and workload courses. We look forward to keeping you informed about the work of this group.
Raquel Aldana and Cirilo Cortez are working with UCOP to plan the next Chicanx Latinx Leadership Summit. The Summit, which will take place at Berkeley in January, will take up some of the recommendations in the HSI Taskforce around the need for greater faculty and administrative Latinx/Chicanx representation. We will also soon begin to plan the next UC-HSI Taskforce Retreat, and we have offered UC Davis as a potential site.  UCOP also plans to revive what was known as CLIC, the Chicano Latino Intersegmental Convocation which will create a space for the community colleges, CSUs and the UCs to coordinate their efforts, including around HSI common goals.
We are looking forward to welcoming the new Vice Chancellor of Diversity, Equity, and Inclusion on July 1—only a few short weeks away! Chancellor May has conveyed his expectation that Vice Chancellor will give continuation to the Taskforce recommendations.  
Extramural Funding Opportunities
Attached is the federal register notice for the Title V competition, which opened on May 15 with a grant deadline of July 15. The Feds will be awarding five-year Individual Development Grants (no Cooperative Arrangement Grants or Planning grants this year), of $500-600,000 for up to 60 months. There are two competitive preference priorities: "Projects that are designed to expand the number of Hispanic and other underrepresented graduate and professional students that can be served by the institution by expanding courses and institutional resources" or "Projects that support instruction in personal financial literacy, knowledge of markets and economics, knowledge of higher education financing and repayment (e.g., college savings and student loans), or other skills aimed at building personal financial understanding and responsibility." We are very excited about these priorities.
Because only a single submission is permitted from the institution, the campus will conduct an internal selection process (UC Davis employee ID and password required for access) that requires interested applicants to put together a pre-proposal grant. We are actively exploring interests on campus from academic departments to apply. We welcome expressions of interest and ideas, but please contact us soon—next week at the latest. Our principal goal is to ensure successful submission of a high quality application that is coordinated and aligns with the goals and values of the HSI Taskforce Report.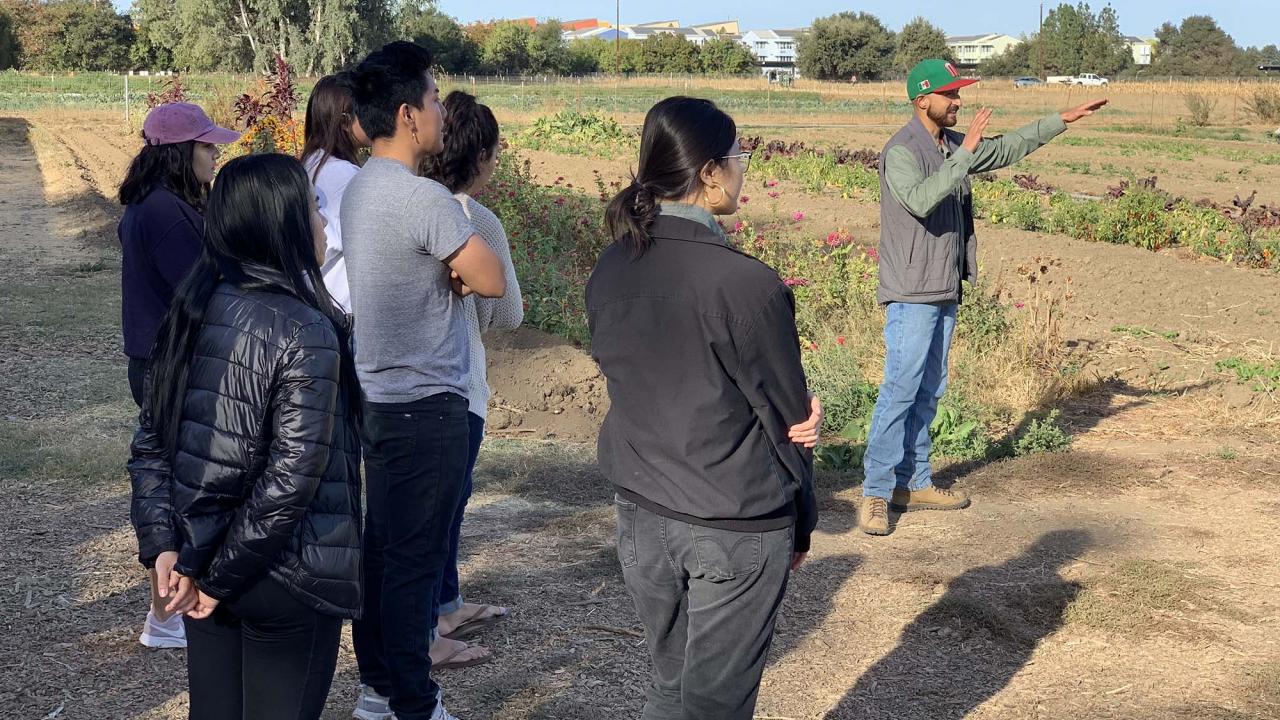 The Student Farm, in collaboration with the Department of Chicana/o Studies, Plant Sciences, Human Ecology, the College of Agricultural and Environmental Sciences, Native American Studies, the Internship and Career Center, EOP, and El Centro, pulled together a grant for the Hispanic-Serving Institutions Education Grants Program, USDA National Institute of Food and Agriculture. Their proposal builds and interdisciplinary coalition around campus food issues to attract and support underrepresented students in the food agriculture natural resources and human sciences. Activities include updating course curriculum to include culturally relevant materials; developing internships and career pathways; and working to solve food security issues. We will hear whether the proposal is successful by the end of the summer. 
Advocacy
On May 20, a delegation of three CAMPOS scholars, led by Raquel Aldana and Mary Lou de Leon Siantz, visited the state capitol. The delegation delivered the HSI Taskforce Report and engaged HSI topics with staffers and Assembly Members from the offices of Cecilia Aguiar-Curry, Shirley Nash Weber, Lorena Gonzalez, Jose Medina, and Kevin McCarty. The delegation championed a desire for an intersegmental conversation to improve the P-16 pipeline. Meetings took place with representatives of State Assembly members. The delegation also met with members of the Asian Pacific Islander Joint Caucus Committee. Thanks to Adrian López of our government relations office for organizing the meetings. Our office is also working with the government relations office to organize a delegation of students to visit our federal legislators. The goal of the visit will be to feature the range of talent amount our students and highlight the evolving nature of HSIs.
Several members of the HSI Task Force, along with champions from several groups that support student achievement, met with Juan Alvarez, USDA Regional Director — Central-Northern California and Washington Hispanic-Serving Institutions National Program. Alvarez's role is to travel up and down the state and into Washington to create partnerships based on a mission of supporting Rising Scholars. He is interested in working collectively to support student success, matching students with industry and scholarships. He took an hour from a USDA-sponsored Future Scientist Day to come to the meeting, so his time was limited. We will hope to engage with him again in the near future.
We look forward to seeing many of you at the Chicanx/Latinx Graduation Celebration on June 14.
Best regards,
Raquel Aldana and Rahim Reed
Co-chairs, HSI Task Force
Banner image: Detail, UC Davis Student Community Center, Davis, CA Winter 2012, UC Davis Chicana/o Studies Mural Workshop, Directed by Maceo Montoya. Learn more here.