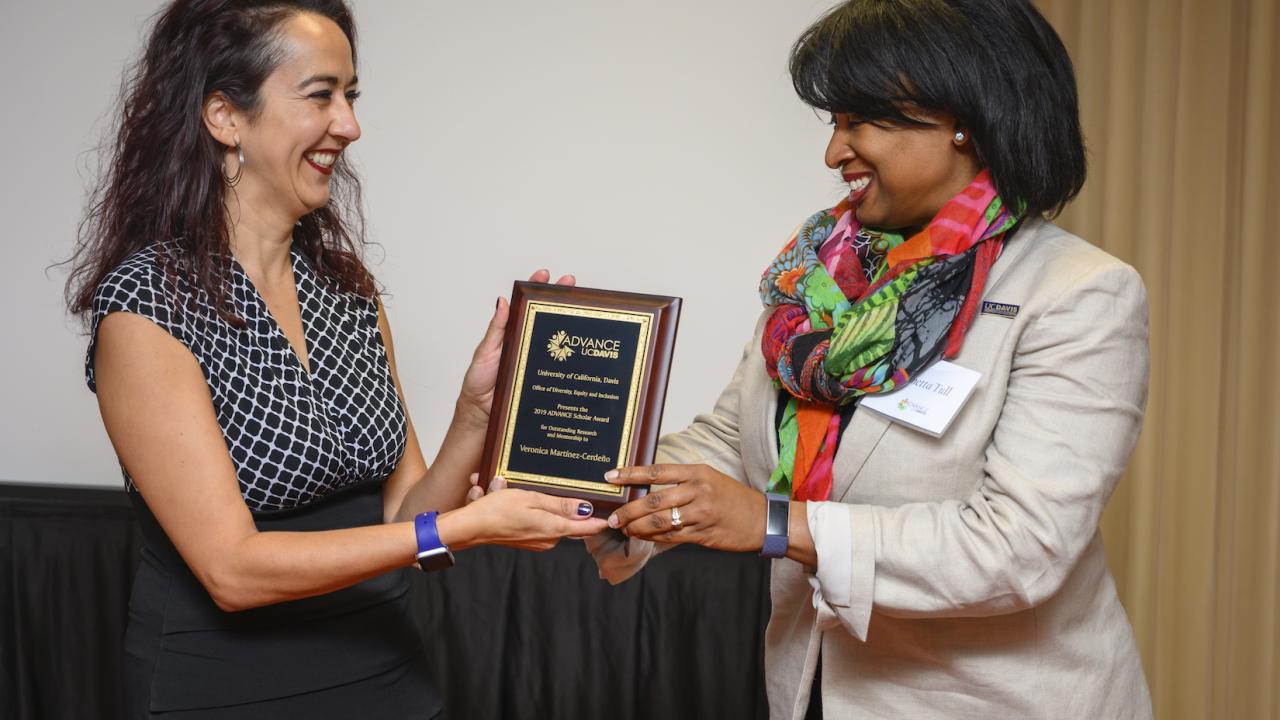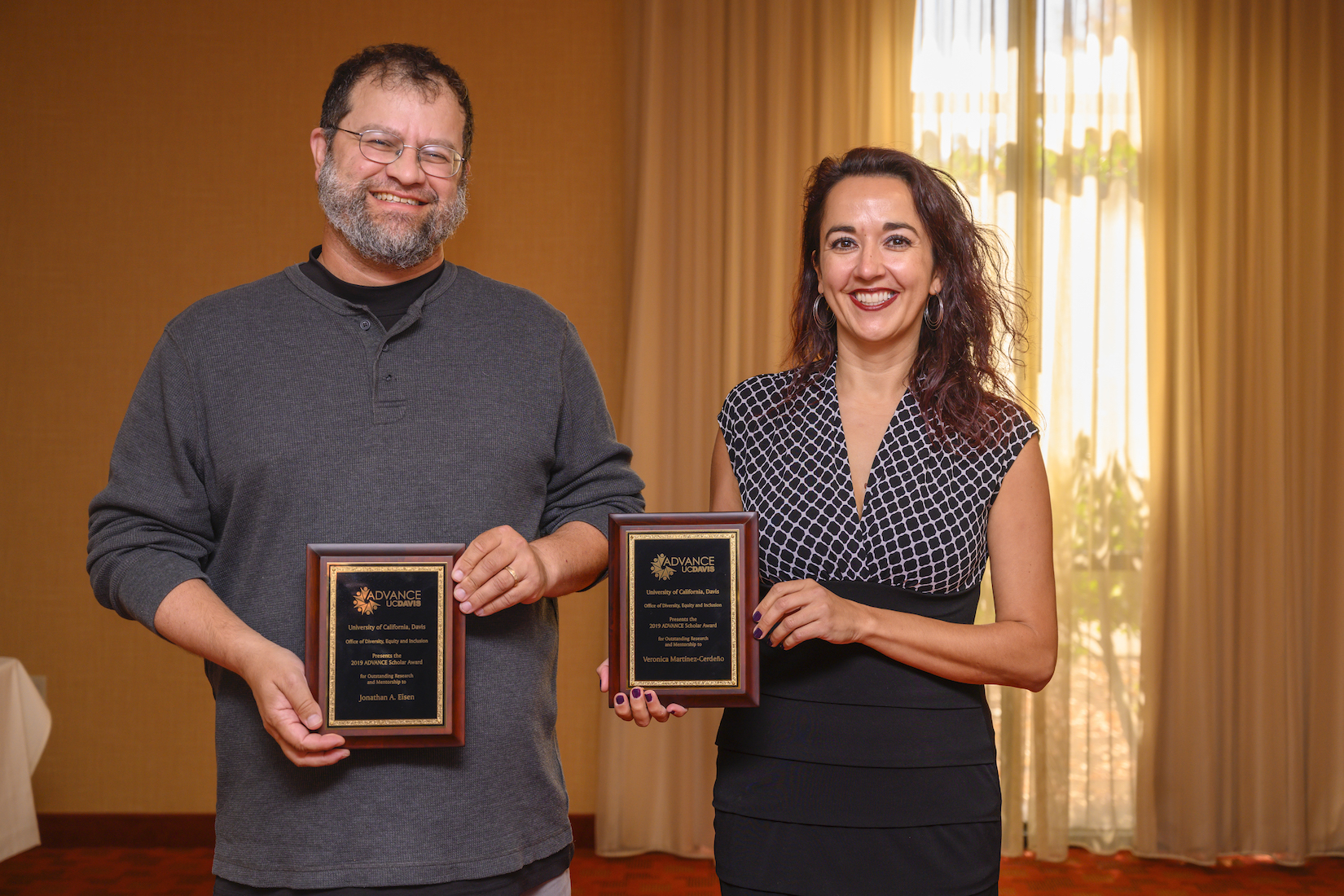 Dr. Martínez-Cerdeño spoke about her nonprofit organization, The Ventricular Foundation, and her work on the little-understood (or studied) pathology of autism. Dr. Jonathan A. Eisen explained the evolution of the study of microbiomes during his decades in the field and his work to ensure greater access and attention for female scientists through advocacy (and rabble rousing). 
Both scholars were recognized for their commitment to outstanding research and mentorship with the 2019 ADVANCE Scholar Award on Thursday, October 24 at the UC Davis Health campus in Sacramento. 
Martínez-Cerdeño is an Associate Professor in the Department of Pathology and Laboratory Medicine, the Institute for Pediatric Regenerative Medicine, the Shriners hospital, and the MIND Institute. She is also a CAMPOS Scholar, inducted in 2016. The goal of her laboratory is to determine the etiology and the pathology of some forms of autism. In addition, she studies the role of stem cells in the development, evolution, and pathogenesis of the mammalian cerebral cortex.
Eisen is a Professor with appointments in the Genome Center, the Departments of Evolution and Ecology and Medical Microbiology and Immunology. His research focuses on the evolution, ecology, and function of microbes and their communities and how microbes interact with each other and with hosts. Most of his work involves using DNA sequencing to characterize microbes and the use and development of computational methods to analyze sequence data.
The ADVANCE Scholar Award program was established in 2014 and is available for mid-career and senior faculty who advance gender equity in STEM through their teaching, research or service. The intent of the ADVANCE Scholar Award is to encourage research, leadership, and outreach to underserved communities and/or mentorship of under-represented students, and to highlight and celebrate the contributions that STEM faculty at UC Davis have made to their fields through outstanding scholarship and mentorship. 
Martínez-Cerdeño has served on numerous committees on campus that advocate on behalf underrepresented faculty and to further advance faculty diversity. This work has extended beyond the campus to the nation's capitol as part of the Hispanic Caucus Public Policy Conference and to state legislators in Sacramento to inform decisions about higher education funding and the importance of underrepresented researchers in the university.
At UC Davis she was awarded the CAMPOS Faculty Scholar Award in 2016. A CAMPOS Faculty Scholar is considered a role model for future scientists and scholars who share their vision of diversity and inclusion, as key components of the Academy in the 21st Century.
In June 2016, many years of her hard work and dedication to primary and secondary school teaching came to fruition when she founded her own non-profit organization, The Ventricular Foundation. The purpose of this foundation is to further knowledge of the brain and to promote scientific outreach to educate the public and K-12 students about the societal benefits of research. She and Foundation volunteers visit Schools in the Greater Sacramento area to talk about the brain and to encourage students from low socio-economical areas to think about their education and their future role in society.
Eisen is a world leader in the movement to increase diversity of presenters at conferences. He has done this via social media, working on local and national conference planning committees, interacting with the press, and giving talks at conferences where he focused on diversity in STEM. For example, he participated in the 1st symposium on "Gender Bias Under the Microscope," where he ran a workshop and participated in a panel discussion.
One of the primary ways in which Prof. Eisen contributes to diversity in STEM fields is by exercising careful choice of collaborators on his research projects. Eisen is always thinking about how research projects can be used to boost the careers of junior scientists, especially those that represent some aspect of diversity in STEM.
He is a very public advocate for diversity in STEM fields, and his efforts have had a major impact throughout the academic community.
Prof. Eisen has also made a major effort to modify his teaching approach and materials he uses in his classes with diversity in mind. This effort reflected the evidence that presenting alternative modes and styles increases the performance of students with diverse backgrounds. Second, he has begun to modify all of his teaching materials to highlight the work of people of diverse backgrounds.
The Vice Chancellor's Office of Diversity, Equity and Inclusion congratulate Dr. Martínez-Cerdeño and Dr. Eisen for their well-deserved recognition.
Tags