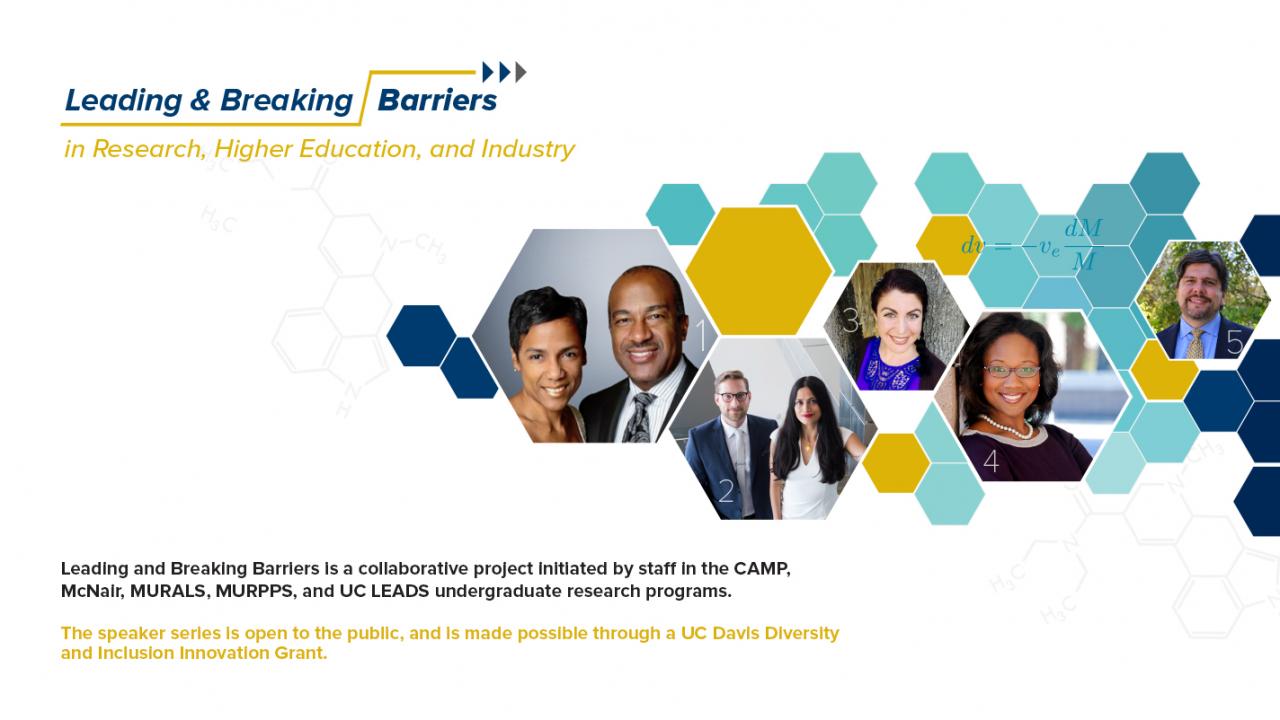 Originally posted by Sharon Knox on October 16, 2017 on Undergraduate Education
Gary and LeShelle May have a long history of boldly going where few have gone before. The pioneers in engineering research and advocates for diversity in STEM and higher education will give a public talk on "Breaking Barriers in a Big Way in Engineering, Industry, and Higher Ed" on Monday, November 6, from 4:10-5:00 pm in the ARC Ballroom.
While Gary May has become a familiar face as the seventh chancellor of UC Davis, the event will also spotlight LeShelle's distinguished professional career and leadership. As a systems/software developer at CNN, LeShelle has been awarded a Technology & Engineering Emmy and two Computerworld Smithsonian awards. She was chapter president of the National Society of Black Engineers at Boston University, where she earned her BS in electrical engineering. She earned her Master's in Computer Science from Georgia Institute of Technology.  "We could not be more excited to be at UC Davis and have an opportunity to be role models for the next generation of students who want to pursue advanced degrees," the Mays said of their upcoming appearance together. 
New Series Addresses Diversity in STEM Fields
The Mays' presentation, "Breaking Barriers in a Big Way in Engineering, Industry, and Higher Education," inaugurates a new speaker series, Leading and Breaking Barriers, which features outstanding, diverse speakers from academia and industry. The series will share stories and practices of leadership innovation in STEM fields to inspire students to discover research, and to overturn stereotypes and misperceptions about what research is and who can participate in it. 
"The goal of the series is to promote research at UC Davis, particularly for students who don't see themselves as researchers: individuals with untapped potential, capable of making positive contributions to society –both locally and globally—through research," says Lolita Adkins, co-creator of the series and Program Manager of the CAMP and MURPPS programs at the Undergraduate Research Center.  These programs foster success in research with students who are not traditionally represented in STEM.   
It's a goal Chancellor May enthusiastically supports. "Undergraduate research opens the door to graduate education," he said. "It provided a mechanism for me to get my start and ultimately led to a PhD, my career in academia, and my journey to leadership."
The series is coordinated by Adkins and McNair Scholars Program Director Jose Ballesteros, and is made possible through a campus Diversity and Inclusion Grant.  Both Adkins and Ballesteros view this series as a way to help propel new researchers forward and to have students take advantage of opportunities available at a leading research institution. The collaborative project also includes partnership from CAMP, MCNAIR, MURALS, MURPPS, and UC LEADS undergraduate research programs.  
A Stellar Lineup
The series continues with a stellar lineup of speakers who have broken barriers, both through their research and by overcoming gaps that persist in STEM research and industry.
For more information and to RSVP for series events, please visit the Undergraduate Research Center's Leading and Breaking Barriers page.
For more information on programs that promote participation in undergraduate research, visit the Undergraduate Research Center's Programs page. 
You can find the original article here.