Vickie Gomez
Director, Campus and Community Engagement
Please contact Avaeta Ahluwalia for scheduling requests
(530) 752-4292 | aahluwalia@ucdavis.edu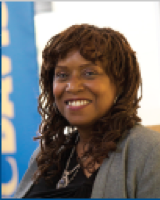 Vickie Gomez, Ed.D. is the Director of Campus and Community Relations in the Office of Diversity, Equity and Inclusion.  As Director her primary responsibility is to provide vision and leadership for the campus in the development, management, implementation and evaluation of strategic, initiatives projects/programs and policies to improve campus climate and community relations in support of the Universities' Strategic Plan for Diversity and Inclusion.  Her work also focuses on community engagement to strengthen the campuses relationship with the surrounding communities. 
Dr. Gomez is member of the UC Davis Diversity Trainers Institute and she teaches several courses for the certificate series in Diversity Awareness and Cultural Competence. She is also a trained facilitator of restorative justice, racial healing and conflict resolution.  Prior to joining UC Davis, she served as an Associate Director of a Trio program at San Jose State University. 
Dr. Gomez received her master's degree in Counseling Education from San Jose State University, and a doctorate in Educational Leadership from UC Davis.  She also holds a Community College Teaching Credential in Psychology and has taught at Evergreen Community College in San Jose.  Dr. Gomez is active in national and community organizations where she provides leadership, presentations and professional development on a broad range of topics.
Read more about Dr. Gomez: