Vickie Gomez
Director, Campus and Community Engagement
vlgomez@ucdavis.edu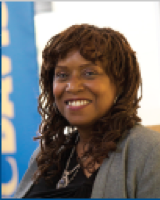 As Director of Campus and Regional Community Engagement my primary responsibility is to provide vision and leadership for the campus in the development, management, implementation and evaluation of strategic, initiatives projects/programs and policies to improve campus climate and community relations in support of the Universities' Strategic Plan for Diversity and Inclusion.  Moreover, my work focuses on community engagement that strengthens relationships with the campuses surrounding communities, as well as organizations that champion K-12 pipeline programs. Service, learning and teaching are embedded in the university mission which also highlights the essential elements of what I do.
I am a member of the UC Davis Diversity Trainers Institute and I facilitate courses for the Cross-Cultural Competence certificate series. Additionally, to mitigate climate issues I provide restorative practice, racial healing and conflict management services. 
Prior to joining UC Davis, I served as an Associate Director of Counseling for a Trio program at San Jose State University. I have a master's degree in Counseling Education from San Jose State University, and a doctorate in Educational Leadership from UC Davis.  I also hold a Community College Teaching Credential in Psychology, and was previously employed as an adjunct faculty member at Evergreen Community College in San Jose.  Outside of work I enjoy leisure activities like hiking, traveling, interior design and reading.
Why I do DEI work
My mother was a community activist and she instilled the values of caring, respect and service. One of my earliest memories is carrying a sign and marching with my family around City Hall for "jobs and justice". Helping the campus to be a more equitable and inclusive place is a natural extension of my family legacy.  I guess you could say I was born to do this work.
Read more about Dr. Gomez: