Victoria Rondan
Program Coordinator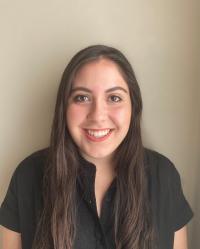 I currently work as a program coordinator for Prep Medicó, a summer pipeline program for undergraduate students pursuing medicine.  In this capacity, I support outreach efforts, manage social media accounts, and facilitate the multi-week summer internship program for our students. As a first-generation, Latinx college graduate, I enjoy connecting with students who are pursuing careers in the health professions and linking them with resources to support their personal and professional growth. Additionally, I support our office's DEI initiatives which include our Racial Healing Circles and Growing as a Community webinar series.
While completing my undergraduate degree, I was heavily involved in student-run clinics, and spent four years as a volunteer with Imani Clinic. I then went on to work at a federally qualified health center, La Clínica de la Raza, in the Community Health Education department as a case manager. Following this experience, I transitioned to my current role as a program coordinator in the Office of Health Equity, Diversity and Inclusion to support both the Prep Medicó program as well as departmental projects. I also work to support the next generation of healthcare leaders and public health advocates through my leadership role with MiMentor, an organization aimed at diversifying the health professions through increasing access to mentorship. I received my B.S. in Human Development from UC Davis in 2019 and will start a graduate degree in public health in Fall of 2021 to tackle health equity in my hometown of Los Angeles, CA.
Outside of work, you can find me taking long walks listening to NPR, or at home drinking my 3rd cup of coffee and watching a true crime documentary.
Why I do DEI work
My mom emigrated from Havana, Cuba and my father's family is from a small town in Jalisco, Mexico called La Unión. Growing up, I struggled between having immense pride for my cultures, while also trying to assimilate into predominantly white spaces that emphasized strong English skills. My hardworking parents instilled in me a rigorous work ethic, and taught me to never consider my own identities or circumstances as disadvantages. What I have learned through my studies in college and my work now is that it is not these characteristics that are a disadvantage, but the isms ingrained in our culture and institutions that hold individuals, and our collective society, back from greatness. I work in DEI to address the ways that the isms impact health outcomes in our communities, and to ensure that pre-health students have all the resources necessary to become healthcare advocates to support underserved populations.
Hashtag/Motto
#échaleganas
Social Media
@victoria_rondan
Last updated 23 February 2021