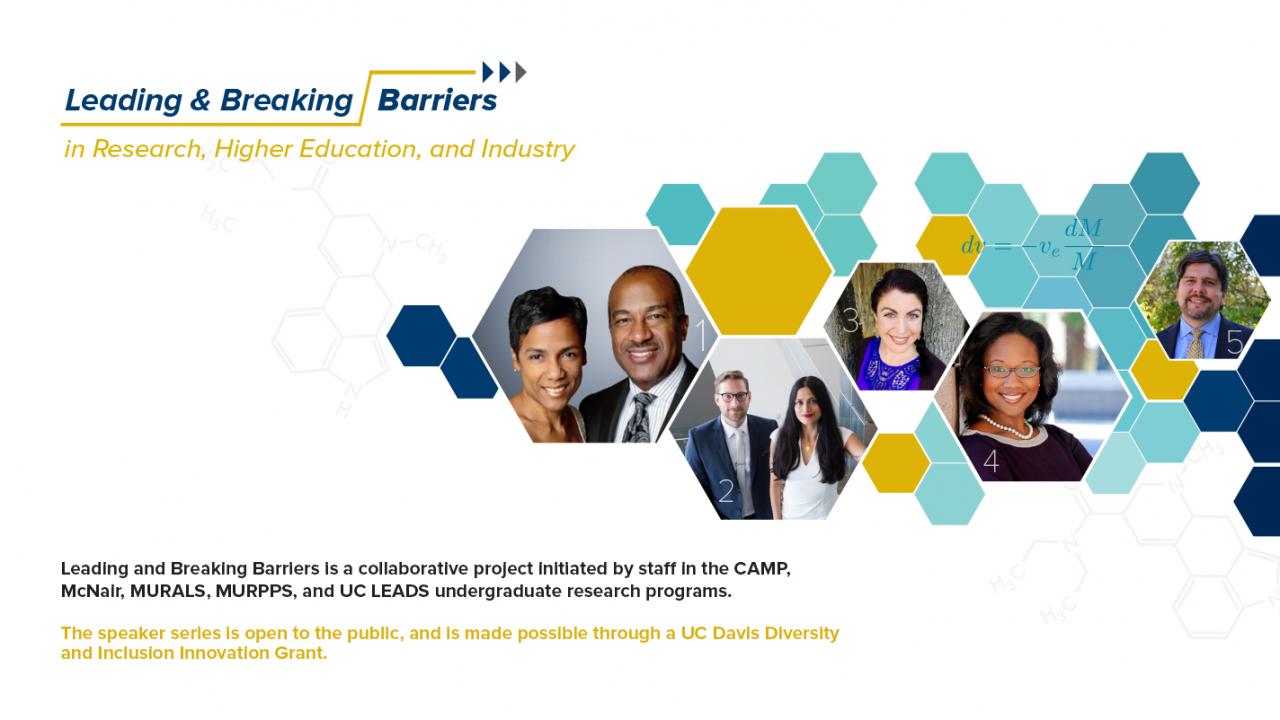 Location
Student Community Center, Multipurpose Room
Leading and Breaking Barriers is a dynamic speaker series promoting participation in undergraduate research. With outstanding, diverse speakers from academia and industry, the Leading and Breaking Barriers speaker series will share stories and practices of leadership innovation in STEM fields to inspire students to discover research, and to overturn stereotypes and misperceptions about what research is and who can participate in it.
Events are open to everyone – students, staff, faculty, and the community.
No Longer Hidden Figures: Encouraging Diverse Mathematical Talent
Talithia Williams, PhD
Associate Professor of Mathematics
Harvey Mudd College
Talithia Williams, PhD is Associate Professor of Mathematics at Harvey Mudd College. She develops statistical models which emphasize the spatial and temporal structure of data, and applies them to problems in the environment. Her professional experiences include research appointments at the Jet Propulsion Laboratory, the National Security Agency, and NASA. 
Show me the data: In her popular TED Talk, "Own your body's data," Williams demonstrates how asking questions about data can guide critical decisions, even on issues as personal as health. She has done significant outreach with the goal of "rebranding the field of mathematics as anything but dry, technical or male-dominated but instead a logical, productive career path that is crucial to the future of the country."
The first African American woman to achieve tenure at Harvey Mudd, Williams has long been dedicated to breaking barriers for women in mathematics. "As a student at Spelman, I ... realized that there were fewer than 100 African American women with PhDs in math and that given the rate at which we were getting math PhD degrees, if I decided to go to graduate school, I, too, could be in the top 100. I can remember how frustrated I felt when I heard that statistic," according to her Association for Women in Mathematics statement.  
About the Series:
Leading and Breaking Barriers is a speaker series created by Lolita Adkins, Program Manager in the Undergraduate Research Center and funded by a Diversity and Inclusion Innovative Grant.  The series is a collaborative project by staff in the CAMP, MCNAIR, MURALS, MURPPS, and UC LEADS undergraduate research programs. 
The series is co-sponsored by the Undergraduate Research Center, and receives additional support from Undergraduate Education, and various departments.