In Support of our Iranian Community
We are devastated by the escalating unrest and violence against protestors throughout Iran following the tragic death of Mahsa Amini on September 22, 2022. UC Davis stands in solidarity and compassion with our Iranian community. We have provided this space to build greater cultural awareness, provide resources, inspire reflection and offer support. 
UC Davis is committed to upholding fundamental human rights, health equity, and justice. We affirm the dignity inherent in all and stand against the use of violence, repression, and discrimination. We recognize that peaceful protest has been an important transformational process to advance human rights, health equity, and social justice. 

 
UC Davis Leadership Statements
---
UC Davis Faculty Perspectives
---
Students and Campus Engagement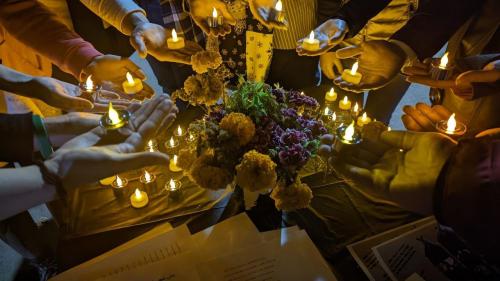 Panel Discussion: "Understanding the Current Uprising in Iran: Perspectives from UC Davis Faculty and Students" on October 27, 2022. Sponsored by Graduate Studies, Davis Humanities Institute, Student Affairs, Global Affairs, Undergraduate Education, Diversity, Equity, and Inclusion. Download the Flyer.

Panelists: 

Amy Motlagh, Bita Daryabari Presidential Chair in Persian Language and Literature 
Mairaj Syed, Associate Professor of Religious Studies 
Mahya Saffarpour, Graduate Student & Member of Iranian Student Association
 

UC Davis Iranian Graduate Student Organization led campus rallies on November 3, 2022 and December 7, 2022. Follow

@iasucdavis

@isoucdavis

 on Instagram (also see 

#woman_life_freedom

#studentsforstudents

)
 
UC Davis Iranian Medical Student Association Healing Circle solidarity events
 

Supporting Iranians' Fight for Freedom UC Davis Graduate Studies Article by Gina Pottenger and Sarah Colwell | December 06, 2022
---
Selected Current News Stories
---
Resources
(from UC Davis Leaders' Statement)
For Students
You may find that talking to someone is helpful in processing everything you are going through. There are a variety of mental health resources available for students on the Aggie Mental Health website. Appointments are available with Counseling Services to all registered students in the U.S. For students in the School of Medicine and Betty Irene Moore School of Nursing, see also resources from the Office of Student Wellness.  

The Iranian Student Association is a registered student organization. Visit their Facebook page to connect with them and learn about how they are supporting the Iranian community. 

UC Davis international students: For questions about your visa, traveling outside the U.S. or other related questions, please make an appointment with your international student advisor in Services for International Students and Scholars within Global Affairs.

For domestic and international students looking to find community, the Middle Eastern, North African and South Asian Student Resources (MENASA) office is here to support you. Make an appointment with the director to talk in person or over Zoom.
For Faculty, Staff and Scholars
The Academic and Staff Assistance Program offers confidential and cost-free assessment, counseling, consultation and referral services to all UC Davis and UC Davis Health faculty, staff and families. For scholars located in Davis, please call 530-752-2727 for an appointment. For scholars in Sacramento, please call 916-734-2727 for an appointment. In addition, mental health support is available in the form of in-person meetings and Zoom drop-in support groups.

UC Davis international scholars: For questions about your visa, traveling outside the U.S. or other related questions, please make an appointment with your international scholar advisor in Services for International Students and Scholars within Global Affairs.
For Our Local and Global Community
UC Davis has created a Global Community Emergency Fund to provide direct support to members of the UC Davis community, including visiting scholars, students, faculty and their families, who have urgent and immediate financial needs related to natural disasters, humanitarian crises and other circumstances beyond their control.  

UC Davis continues to encourage students and professionals to use Article 26 Backpack — situated within Global Affairs — to safeguard academic documents, diplomas, transcripts, professional certificates and credentials and other sensitive materials from loss.
Middle Eastern and South Asian Pages
UC Davis campus guide that contains information about academics, student resources, student organizations and activities.