Update on UC Davis' Progress toward Achieving Hispanic Serving Institution (HSI) Designation 
June 18, 2020–UC Davis has made important progress toward our goal of achieving federal Hispanic Serving Institution (HSI) designation since our last communication on this subject on October 1, 2019, which may open up opportunities to pursue HSI sources of funding. While our HSI ideals go well beyond funding implications, UC Davis recognizes that access to financial resources is essential to advancing many of the recommendations in the HSI Task Force report. The Office of Diversity, Equity, and Inclusion (VC-DEI) has been charged to take a leadership role in communicating with federal agencies, coordinating with partners on campus, and engaging with stakeholders on these funding opportunities. We are also working closely with the Office of Research (OR) and Budget and Institutional Analysis (BIA) to ensure that we provide available accurate information as you, stakeholders on campus, consider these funding opportunities.
First, we want to explain that under federal law, UC Davis may qualify as a Minority Serving Institution (MSI) both as an HSI and as an Asian American and Native American Pacific Islander-Serving Institution (AANAPISI). The Higher Education Act established the U.S. Department of Education (ED) as the federal agency responsible for determining eligibility and designation under both HSI and AANAPISI, which are necessary precursors to access federal funding. For this reason, other federal agencies that make available funding opportunities to MSIs – including the National Science Foundation, the U.S. Department of Agriculture, the U.S. Department of Veteran Affairs, among others— rely on ED's determinations of these designations.
The Department of Education recently clarified UC Davis' formal designation as AANAPISI in a public eligibility rubric that most agencies rely on to determine MSI designations. In addition, ED confirmed UC Davis' formal designation as AANAPISI to BIA in response to our annual submission of the waiver application that ED required to establish our MSI eligibility. Any MSI designation requires that eligible institutions establish a federally-mandated threshold of undergraduate student enrollment as a percentage of the overall student enrollment using the Integrated Postsecondary Education Data Systems (IPEDS) data. This method, and its connection to HSI designation, was discussed with details in our October 2019 communication. The ED eligibility matrix, however, relies on data from IPEDS that runs two years behind the most student recent enrollment data, and for this reason, we do not yet appear in the MSI eligibility matrix as HSI, and it explains why other federal agencies or non-profits label UC Davis an "emerging HSI." Nevertheless, UC Davis' proportion of students who identify as Asian American and Native American Pacific Islander is well past enrollment thresholds based on the most recent published IPEDS data, which is from 2017-2018. Unfortunately, opportunities for AANAPISI funding are fewer and yield fewer resources than some of the other MSI funding opportunities. 
With ED's assurance, and after consultation with executives from OR and BIA, we believe that UC Davis is ready to seek federal funding opportunity as a HSI and are moving forward with cautious optimism and the awareness that allowable methodologies for counting students may vary from opportunity to opportunity. To increase our chances of success, we ask that anyone on campus who wishes to pursue an opportunity work with our staff in the VC-DEI office. As we look to maximize resources for the campus, coordination is essential to avoid pitfalls, including potential conflicts with other opportunities that may be underway. We are happy to provide the following assistance and services: 
We will provide any relevant communications that we have from federal agencies and the Department of Education validating that we may be positioned to pursue opportunities as an MSI, AANAPISI, or HSI. 
We will work with you to contact the agency program director to solicit confirmation that they would accept the applications. 
We will coordinate with the Office of Research to sign off on applications that require a statement of eligibility. 
We will work with BIA to provide any data or documentation you might need to sustain arguments for eligibility or other matters related to your funding request. 
Due to federal funding opportunities restricting institutions to a single competitive submissions, we will help you coordinate the required internal competition process in concert with the Interdisciplinary Research Support (IRS) unit in the Office of Research [link]. 
We are extremely grateful to Congress and the ED for its prompt and substantial response to help higher education weather the enormous impacts from COVID-19. Even before asserting our MSI status, UC Davis received nearly $34 million in federal funding through the CARES Act. Of that amount $17 million is designated to provide direct financial assistance to our students. The remainder will be used to address some of the operational impacts caused by the pandemic. UC Davis has begun the application process for funds designated for minority serving institutions under the CARES Act, and we anticipate additional, critical funding through this effort. We will continue to seek federal funding—and other opportunities—because it is imperative that we have the resources to continue to advance equitable opportunity for all student at this critical moment in history and in our students' futures.
Statement on achieving HSI designation for UC Davis
September 30, 2019 – UC Davis has fully embraced our journey toward achieving Hispanic Serving Institution (HSI) designation as part of our ongoing commitment to the success of students and to our mission as a California public, research intensive and land grant university. Our enrollments of Chicanx/Latinx students have been steadily increasing since 2008, when UC Davis set its goal to become a HSI. In the past decade, the number of undergraduate Chicanx/Latinx students that UC Davis educates has more than doubled from 3,063 in 2008 to 6,715 in 2018.
While we are not yet a designated HSI according to the US Department of Education, we continue to move toward the goal! As our numbers of both domestic and international students have grown, UC Davis is proud that more than 25% of our degree-seeking domestic students are Chicanx/Latinx. Further, when analyzing our steady growth, we have more Chicanx/Latinx students than many designated HSIs, and we are pleased to join designated HSIs in serving thousands of Rising Scholars. Federal agencies have been acknowledging our effort, and we have been encouraged to continue the good work that built enthusiasm and excitement. UC Davis moves forward in this journey, and we are working to increase our enrollments of undergraduate, graduate, and professional students as we commit to reflect the demographics of our California.
You can read the full statement regarding our HSI status here.
Renetta Garrison Tull
Vice Chancellor of Diversity, Equity and Inclusion
Raquel Aldana
Associate Vice Chancellor for Academic Diversity
Laura Cerruti
Principle Analyst, Office of Diversity, Equity and Inclusion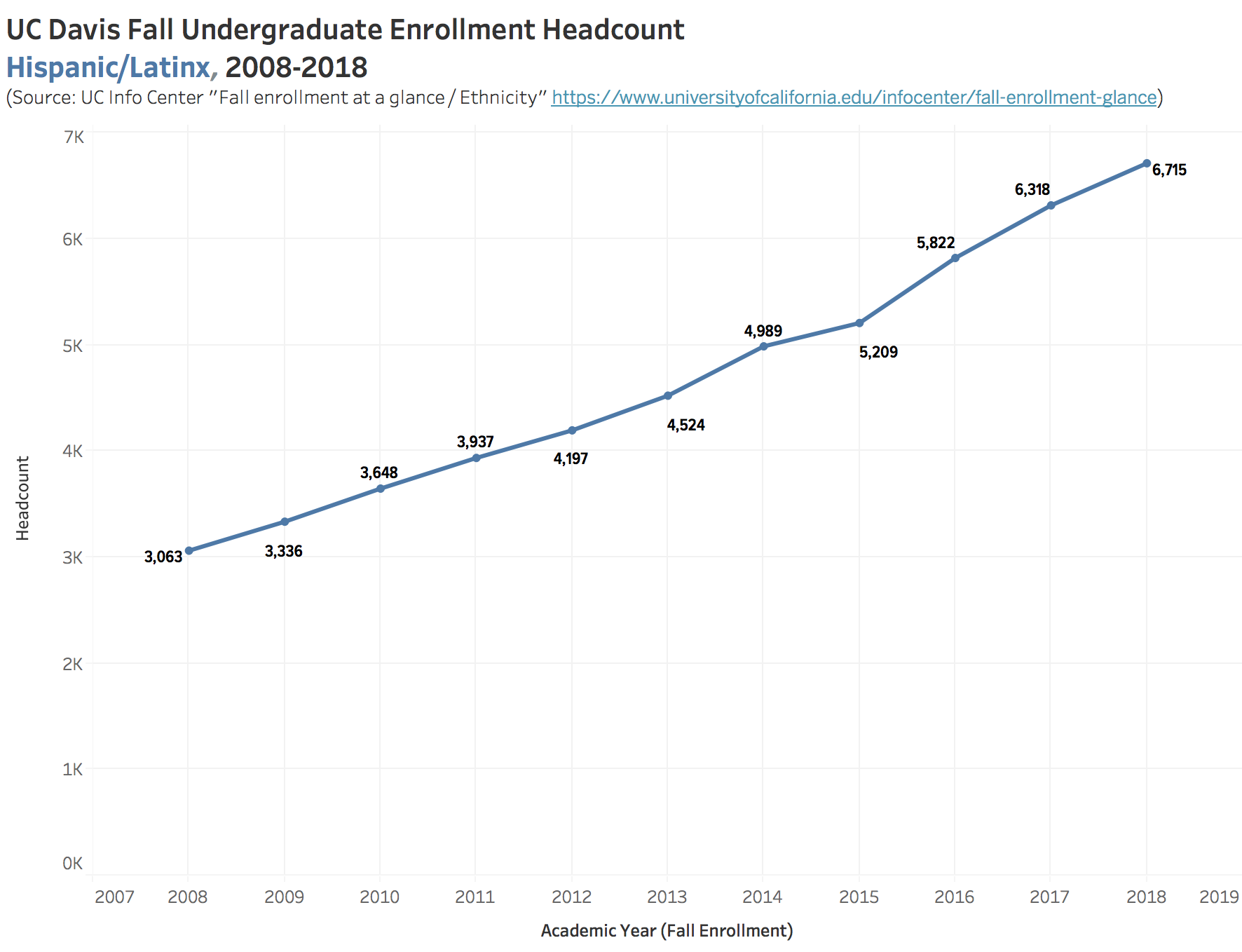 Frequently Asked Questions
HSI BASICS
What is an HSI?
Title V of the Higher Education Act defines Hispanic-Serving Institutions (HSIs) as (A) an eligible institution; that (B) has an enrollment of undergraduate full-time equivalent students that is at least 25 percent Hispanic students at the end of the award year immediately preceding the date of application. Only US citizens and lawful permanent residents are counted for HSI designation. Institutions are eligible to apply for grants if they meet specific statutory and regulatory eligibility requirements. To be designated as an eligible institution of higher education, an institution must apply for and receive designation through an application process.
How many HSI higher education institutions are in the United States?

Of the 492 institutions that met HSI criteria in 2016-17 (Source: Excelencia in Education), 14 are now R1, meaning they have the highest level of research activity for undergraduate and graduate students (Source: The Carnegie Classifications of Higher Education). Once formally designated an HSI, UC Davis estimates it will be one of about twenty of the HSI campuses that are considered R1 universities, a number that would still be less than 5% of all HSI institutions. Five of the current R1 universities are also part of the University of California system. As of November 2018 there were 115 R1 universities in the United States.

R1 Hispanic Serving Institutions
CUNY Graduate School and University Center
Florida International University
University of California, Davis
University of California, Irvine
University of California, Riverside
University of California, Santa Barbara
University of California, Santa Cruz
University of Houston
University of Illinois, Chicago
University of New Mexico, Main Campus

Will UC Davis be eligible for additional funding with an HSI designation?

The Hispanic-Serving Institution moniker comes from Title V of the Higher Education Act of 1965. It is a federal response to historic underfunding of education for Hispanic students. The Act directs the federal government to "provide grants and related assistance to Hispanic-serving institutions to enable such institutions to improve and expand their capacity to serve Hispanic students and other low-income individuals." In addition to Title V funding, Hispanic-Serving Institutions often have priority funding under Title III, other federal agencies (e.g. USDA or NSF), and even private organizations and donors. This is important, because as the number of Hispanic-Serving Institutions have grown exponentially over the past 20 years, Title V funding has remained flat. All of these opportunities are very competitive. Not only is funding not guaranteed, but it is only available to those institutions who show a clear understanding of their strengths and weaknesses as an organization, and of the needs and values of their students.
ENROLLMENT AND ADMISSIONS
How long has UC Davis' Hispanic enrollment been growing?
Since 2008, UC Davis has nearly tripled the number of Chicanx/Latinx students who apply to UC Davis as freshman or transfers (2008: 7409, 2017: 19486), and more than doubled its enrollment of those applicants (2008: 989, 2017: 2169). The dramatic increase is not a fluke of demographics, but an intentional strategy by UC Davis admission and recruitment staff to attract top students, draw from new regions of California, and strengthen the UC Davis brand among key influencers.
What recruitment and admissions best practices and policies is UC Davis adopting to move towards attaining HSI status?

UC Davis is a destination of choice for Chicanx/Latinx students. While Chicanx/Latinx students have a lower acceptance rate (37%) than the entire student pool (42.8%), our Chicanx/Latinx students exhibit a higher yield rate (28.5%) than our general student population (23.7%), which ensures that their overall admissions rate (10.5%) remains aligned with the admissions rate of the general student population (10.0%). The number of applications from Chicanx/Latinx students have increased dramatically in the past ten years. The same is true for low-income students. Even as applications have increased, the number of admits and enrollees has increased at a much slower pace. The increase in the proportion of Chicanx/Latinx students has been the result of UC Davis' ability to attract Chicanx/Latinx students who meet the high standards of admission to the University of California system.

Additional strategies have included:
- Diversify the regional pool of our applicants so that UC Davis attracts the top Chicanx/Latinx applicants from places like the Imperial Valley and Salinas rather than drawing from the same pool as other institutions.
- Create a strong brand and reputation with high school counselors, superintendents, and other school influencers to encourage applications and enrollment.
- Expand traditional events to include Chicanx/Latinx parents/caretakers and community influencers.
- Host a variety of Yield Activities throughout the state and on campus for Freshman.
- Host several hundred Chicanx/Latinx, African-American and Native American Transfer students as part of Transfer Decision Day.
- Increase social capital with Chicanx/Latinx students through hosting visits that showcase UC Davis' intentional support mechanism and programs to guarantee their success and graduation.
For an explanation of how applications are evaluated at University of California see: http://admission.universityofcalifornia.edu/freshman/how-applications-reviewed/index.html and https://www.ucdavis.edu/admissions/undergraduate/freshman/selection-process.
SOCIAL MOBILITY AND CULTURAL HUMILITY
How will UC Davis leverage its prospective designation as an HSI to ensure the success of all students?

In 2017, UC Davis was ranked ninth by Washington Monthly magazine for universities with contributions to the "public good." The magazine defined "public good" as social mobility (recruiting and graduating low-income students), research (producing cutting-edge scholarship and Ph.D.s) and service (encouraging students to give something back to their country). In 2015, The New York Times ranked UC Davis as No. 2 on its list of universities serving as an "upward-mobility machine" for students (the other UC campuses rounded out the top five). The ranking is based on the share of students receiving Pell Grants, graduation rates, and net cost to students of middle- and low-income families after receiving financial aid.

UC Davis has an opportunity to carve out an identity as an HSI that directly addresses our mission:
"to serve society as a center of higher learning, providing long-term societal benefits through transmitting advanced knowledge, discovering new knowledge, and functioning as an active working repository of organized knowledge. That obligation, more specifically, includes undergraduate education, graduate and professional education, research, and other kinds of public service, which are shaped and bounded by the central pervasive mission of discovering and advancing knowledge."[2]

Translating our commitment to our public good mission through education to a specific community is related to larger issues of equity. California has the 3rd largest Hispanic population of any state, with 38.6% of residents. In California, the median household income for Hispanics of $52,403/year, compared to $79,353 for non-Hispanic white households. Nationally, 33.3% of Hispanics 25 and over have not completed high school as of 2015, compared to 6.7% of non-Hispanic whites. Nationally, 15.5% of Hispanics have at least a bachelor's degree and 4.7% an advanced degree, as of 2015, compared to 36.2% and 13.5% for non-Hispanic whites. In California, just 12.1% of Hispanic adults have a bachelor's degree, compared to 43.1% for non-Hispanic whites, the largest college attainment gap of any state. Nationally, 62.5% of Hispanic recent high school graduates ages 16-24 were enrolled in college in 2015, compared to 68.3% for whites[3]

As a land grant institution, UC Davis has a responsibility to address these issues and impact the well-being of residents in our state. Might the HSI initiative galvanize the campus around addressing stubborn issues of retention and inequity that persist in our institution? Research has shown that the institution needs to recognize the part it plays in continued disparities in outcomes based on demographics.[4] In the end, all students benefit from such an approach.

REFERENCES
[1] http://carnegieclassifications.iu.edu/classification_descriptions/basic.php
[2] University of California, Mission Statement, 1960. https://www.ucop.edu/uc-mission/index.html
[3] HACU, National Institute for Latino Policy, Pew Research Center Image Credit: Urban Archives Center Latino Cultural Heritage Digital Archives Frank del Olmo Papers. California State University, Northridge. Oviatt Library.
[4] Salkind, N. J. (2008). Cultural deficit model. In Encyclopedia of educational psychology (Vol. 1, pp. 217-217). Thousand Oaks, CA: SAGE Publications, Inc. doi: 10.4135/9781412963848.n60; Garcia, Gina A. and Okhidoi Orgonjargal (2015) "Culturally Relevant Practices that 'Serve' Students at a Hispanic Serving Institution." Innov Higher Educ 40:345-357. See also: Terenzini, Patrick T. et al. (1995) "Making the Transition to College" in Menges, Robert J. Menges, Maryellen Weimer, and Associations, eds., Teaching on Solid Ground: Using Scholarship to Improve Practice. Jossey-Bass. pp. 43-73. Engle, J., Tinto, V. (2008) "Moving Beyond Access: College Success For Low-Income, First-Generation Students." Pell Institute.