Avanza en UC Davis
In celebration of the 22–23 academic year, we are proud to present Avanza an HSI campaign that honors the strength, energy and forward thinking of our comunidad. Read More Here.
 
What is HSI?
A Hispanic-Serving Institution (HSI) is a federally-designated institution of higher learning that has a full-time equivalent enrollment of undergraduate of at least 25% Hispanic students. This designation enables institutions to apply for critical funding to support student success, innovation, and institutional transformation.
Read more on HSI criteria here.
Currently, UC Davis has not yet reached HSI status at 24.1% Hispanic enrollment, and is recognized as an Emerging HSI.
Between 2011 and 2021, we have doubled the number of students who identify as Chicanx/Latinx marking a clear commitment by UC Davis to close the equity gaps in higher education and enabling all of our community members to thrive and reach their full potential. In 2021, Chancellor Gary S. May enrolled in Presidents for Latino Student Success, part of the national nonprofit organization Excelencia in Education and its Excelencia in Action Network. The work to reach HSI status represents a legacy of advances to achieve the longstanding vision of "servingness" to the Chicanx/Latinx community that extends beyond the aspirations of the federal designation.
What it means for UC Davis to be an Emerging HSI
A Campus Community of Belonging: What HSI means for everyone
Sharing and exchanging diverse backgrounds benefits the campus through diverse perspectives. Funding obtained as a result of achieving the HSI designation would be used for a variety of programs that benefit all students.
 
UC Davis is Uniquely Qualified to be a Leader in the Charge
As both a top tier research institution ("R1") and a land grant university, you are affiliated with a university that puts quality and community at the progressive helm of positive change, regionally and globally.
 
Success for me is the success of my community. It's not until my community overcomes oppression—that's when I can say that I'm successful.
—UC Davis student
The HSI Movement at UC Davis
A History of Transformation: Pioneros
The foundational path was forged by what we call Pioneros. These individuals and groups laid the groundwork for the possibility to achieve HSI status, and many of their stories have been documented in their Testimonios.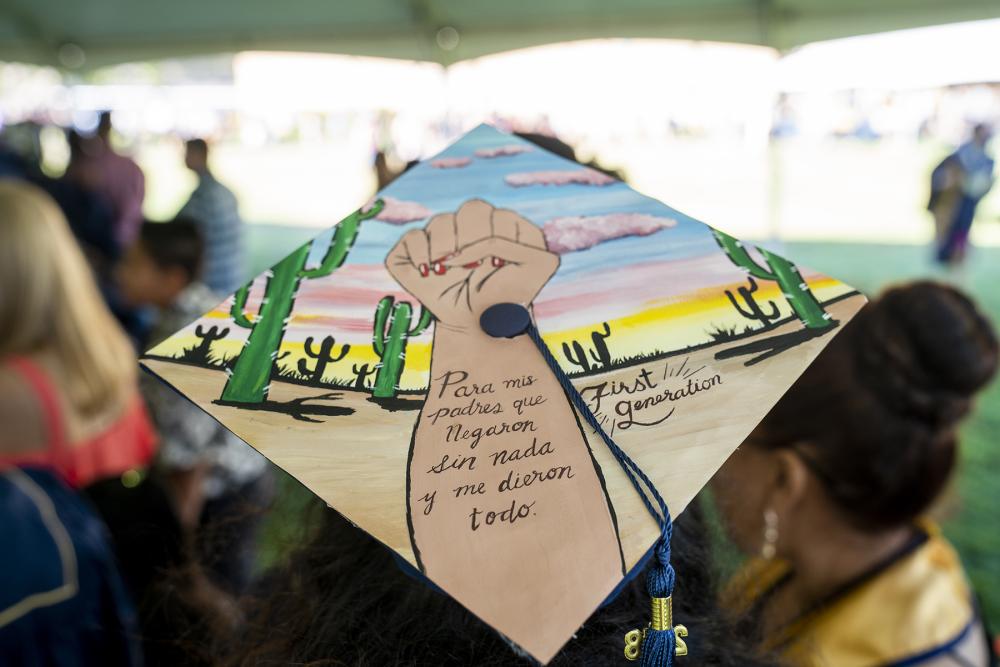 The Future: Rising Scholars
An asset-oriented view that overtly acknowledges the experiences, firsthand knowledge, talents and contributions of all students who bring a keen sensitivity and insight to issues of social justice, the challenges faced by the majority of people and who are motivated by a sense of interdependence. "Rising Scholars" is a framework defined by Byron P. White (in "Beyond a Deficit View") that replaces the reliance by institutions of higher education on deficit labels—"low income," "first generation," "person of color"—deemed to be, first and foremost, indicators of potential failure. Acknowledging the gifts and talents Rising Scholars bring to a university creates the opportunity for them to be fully actualized.
Opportunities and Resources 
The Hispanic Association of Colleges & Universities (HACU) National Internship Program 
HACU's National Internship Program provides opportunities for students to gain professional experience interning within a federal agency while getting paid. On October 4, 2023, HACU staff led a workshop about the program at UC Davis. View the recording of the presentation here. To learn more about the program and the application process, please visit the HACU website. Students from all majors and backgrounds are encouraged to apply.
---
The HCC - UC Davis Hispanic-Serving Institution (HSI) Community Council
Robert Aguallo '73, board of directors, Golden Pacific Bank
Neptaly "Taty" Aguilera '73, chair, UC Chicanx/Latinx Alumni Association; board of directors, UC Davis Cal Aggie Alumni Association
Caroline Cabias '72, trustee, UC Davis Foundation; past board member, UC Davis Cal Aggie Alumni Association, UC Davis; past co-chair of Chicanx/Latinx Alumni Association
Luis G. Carvajal-Carmona, associate vice chancellor, Academic Diversity, Diversity, Equity and Inclusion (DEI-OAD), UC Davis
Francisco Hernandez, Ph.D., chair, HSI Community Council
Sarah Martinez, education director, Yocha DeHe Wintun Nation
Gary S. May, chancellor, UC Davis
Lina Méndez, Ph.D. '10, director, Hispanic Serving Institution initiative, Diversity, Equity and Inclusion (DEI-HSI); board member, UC Davis Cal Aggie Alumni Association
José R. Michel, Ed.D. '86, retired higher education administrator; past board member, UC Davis Cal Aggie Alumni Association
Martin de Mucha Flores, associate dean of educational success, Berkeley City College
Pablo Reguerín, vice chancellor for Student Affairs, UC Davis
Cathy Rodriguez '99, president and CEO, Sacramento Hispanic Chamber of Commerce
Renetta Garrison Tull, vice chancellor for Diversity, Equity and Inclusion, UC Davis
Roman Urbano '66, president, Yolo Interfaith Immigration Network
Mikael Villalobos, associate vice chancellor, Campus Community Relations, Diversity, Equity and Inclusion (DEI-OCCR),  UC Davis