Spring Scholar of the Quarter Corrie Decker
P.L.A.C.E with CAMPSSAH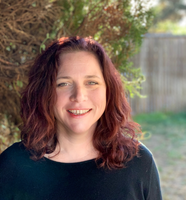 P.L.A.C.E with CAMPSSAH is delighted to announce the recipient of our spring Scholar of the Quarter award–Corrie Decker, associate professor in the department of history!
The Scholar of the Quarter award is a part of an initiative funded by a UC Office of the President "Advancing Faculty Diversity" grant designed to improve faculty retention and satisfaction through peer recognition.
This award is designed to recognize faculty at the assistant or associate rank whose scholarship epitomizes scholarly or creative achievements that involve diverse communities with a commitment to social change. 
Applicants were evaluated on whether they developed innovative curriculum that engages diverse student populations with collaborative work in communities; demonstrated a long-standing commitment to advocating on behalf of underserved communities; produced creative or scholarly work that brings awareness to critical issues facing marginalized communities; and conducts research that challenges "normative" disciplinary boundaries.
Corrie Decker specializes in the history of gender, childhood, sexuality, and development in East Africa. Her first book, Mobilizing Zanzibari Women: The Struggle for Respectability and Self-Reliance in Colonial East Africa (Palgrave Macmillan, 2014), investigates the history of Muslim girls' education and women's professionalization in the Zanzibar Islands and she recently co-authored, The Idea of Development in Africa: A History (Cambridge University Press, 2020) with Elisabeth McMahon.
Professor Lisa Materson, who nominated Decker, explains that it is not only the ways in which her work elevates the histories of colonial and postcolonial contests over power in East Africa that demonstrates her "engaged excellence" but also in the ways she conducts her research. "Collaboration and reciprocity with local communities are at the core of her research methodology" in ways that makes the communities she researches a partner in telling their stories.
At UC Davis, Professor Decker creates research and networking opportunities for first generation and underrepresented students through the McNair Scholar Program and the departments' Women's and Gender History initiative. The courses she leads advance antiracism and antisexism by weaving together historical scholarship with expert guest speakers. Many students, Professor Materson notes, have commented on the transformational impact of these speakers on their thinking.
Additionally, Professor Decker's commitment to the work of Diversity, Equity and Inclusion within the faculty community is evidenced by her co-piloting (with Professor Materson) "the creation of a faculty-led Workplace Climate Action Group (WCAG) designed to provide early, constructive, in-house intervention to struggling departments in order to engender a university culture that helps recruit and retain women and under-represented minorities among the faculty and students."
The Scholar of the Quarter will receive a $1,000 Academic Enrichment Fund as well as a certificate of recognition.
Primary Category
Secondary Categories
Tags