A Message from Vice Chancellor Tull
A culmination of many stressors, including ongoing racism leading to the disproportionate loss of lives of people of color across America, has left our community traumatized and seeking answers. At UC Davis, we affirm our support for Black lives, acknowledge racism and connect with a shared commitment to address it. The office of Diversity, Equity & Inclusion has created this website with resources to support our community as we continue to find ways to build and strengthen our diverse culture at UC Davis.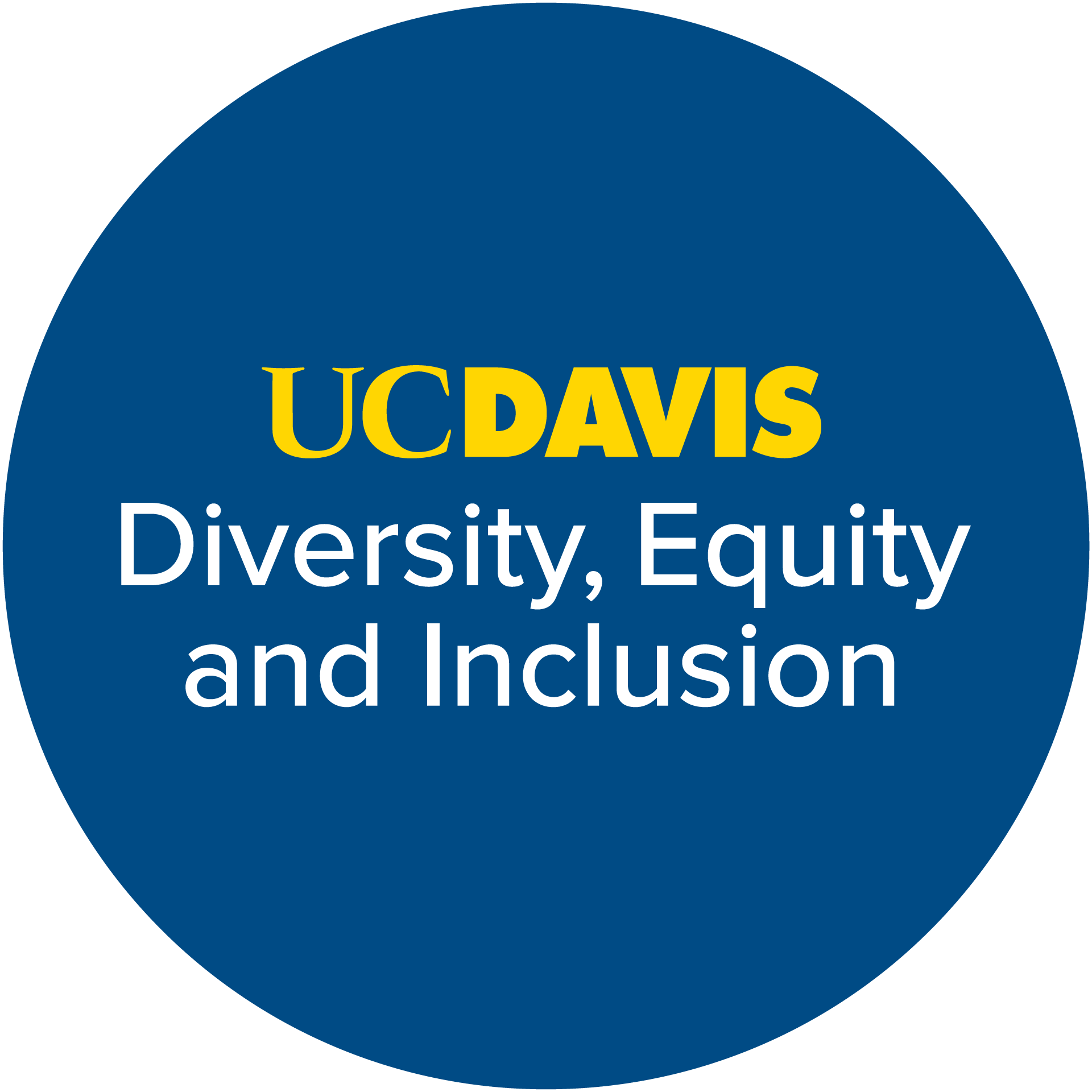 In the May 28, 2020 DEI newsletter, Renetta Garrison Tull, Vice Chancellor for Diversity, Equity & Inclusion, delivered a call to action for the UC Davis community:  Across the country, we've seen the messages that say that we are in this together and we have to declare that it is not enough to say it. Our actions must reveal it. This means that we care for one another, and that includes caring about people whom we don't even know, or people who have different lived experiences. It means that we reaffirm and actualize a commitment to our Principles of Community – whether we are on campus or not. Finally, it means that despite our physical separation and distancing, we must treasure our opportunities to connect and be in community with others, virtual or otherwise. We can increase our caring and understanding, be upstanding in our treatment (and the observation of others' treatments) of fellow human beings, and most importantly, we must choose to recognize, cherish, and facilitate everyone's opportunity to think, to breathe, and to live.
This webpage will be updated as new resources and information becomes available
 At 3 PM PDT on Tuesday, June 2, 2020, the UC Davis university community came together for a live "Dedicated Moment of Silence" for George Floyd, Breonna Taylor, Ahmaud Arbery, and to acknowledge many others like Stephon Clark and to mourn for injustice. The short, 15 minute program, was simulcast  @UCDavis Facebook, Instagram, Twitter, and YouTube. The purpose of the event was to affirm our support for Black lives, acknowledge racism, and a shared commitment to address it. Speakers included Gary S. May (Chancellor); Renetta G. Tull (Vice Chancellor – Diversity, Equity, & Inclusion); and Kayton C. Carter (Executive Director - Student Affairs Retention Initiatives, Director - Strategic African American Retention Initiative, Director - Center for African Diaspora Student Success)
Report an Incident of Hate or Bias
Guidance Documents
Next Steps
June 9 - UC Chief Diversity Officers met and are planning a meeting with the police chiefs from all ten campuses
DEI shared resources related to the national campaign brought forward by women in science called #ShutdownSTEM, and connections to #ShutDownAcademia and #Strike4BlackLives, scheduled for Wednesday, June 10, 2020. A subset of national STEM organizations participating include: the American Association for the Advancement of Science; Science Magazine; March for Science; and Physical Review Letters
June 10 - Diversity, Equity and Inclusion Executive Leadership Team (DEI-ELT) meeting, a standing committee of deans and campus leaders will meet to discuss their statements and corresponding action items.
June 12 - Conversations about actions with leaders in International Education, led by Joanna Regulska, Vice Provost and Associate Chancellor of Global Affairs, including Renetta Garrison Tull, Vice Chancellor, Diversity, Equity and Inclusion. As we reflect on systemic oppression, anti-Black racism, and now normalized, but still unspoken biases, we should also think about actions that we need to take in order to bring about the change that we desire and best support our campus community.
June 16 - Chancellor May meets with Law School Dean Kevin Johnson and Vice Chancellor Tull to discuss the charge for the new Taskforce on Next Generation Reforms to Advance Campus Safety.
June 17 - Vice Chancellor Tull meets with Graduate School of Management Dean R. Unnava to hear the GSM's action plan, and the follow-up from their compiled living document of resources to confront racism, both individually and systemically.
Resources for Mental Well-Being and to Engage in Self-Care
Instructor-focused Resources
Student-focused Resources
Valencia G. Scott is part of the 2019-2020 Chancellor's Undergraduate Advisory Board, and a 2019-2020 Student Advisor to the Chancellor in the Office of Chancellor Gary S. May, Davis. Valencia authored this document and offered it as "Administrative Suggestions for Black Community Support." (Posted with permission, 7/1/20)

Local Organizations Offering Support and Healing Circles
Resources for Thinking and Acting
Institutions of Higher Education and Academics
Organizations
Activists and Journalists
Resources for Preventing and Addressing Police Abuse
If you have a source that you think should be here, please e-mail Tom O'Donnell
This page was inspired by one of our sister campuses, UCLA's Office for Equity, Diversity and Inclusion, Chief Diversity Officer, Jerry Kang, Distinguished Professor of Law; Distinguished Professor of Asian American Studies.
Tags