Welcome New CAMPSSAH Faculty Director and Faculty Scholars
The Office of Academic Diversity, a unit of the Vice Chancellor's Office for Diversity, Equity and Inclusion, is happy to announce the appointment of a new faculty director of the Center for the Advancement of Multicultural Perspectives on Social Science, Arts, and Humanities (CAMPSSAH) and the selection of the 2022-2023 cohort of faculty scholars.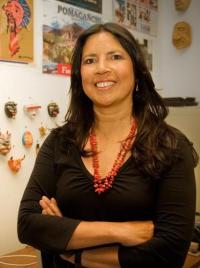 Vice Chancellor Renetta Tull appointed Zoila Mendoza as the CAMPSSAH Faculty Director on an interim basis for the 2022-2023 academic year. Mendoza is a professor in the department of Native American Studies. Trained as an anthropologist, her research examines music and dance in the Americas, particularly in Peru and the rest of the Andean region, Quechua-speaking people's forms of Knowledge, and the Quechua language revitalization processes. Her third book, published in 2021, Qoyllur Rit'i: Crónica de una peregrinación cusqueña (written in Quechua and Spanish), is the result of her work with members of the community/district of Pomacanchi, Cuzco, from 2006 to 2013.
Vice Chancellor Tull notes her impressive record of research, her administrative leadership experience–she is currently chair of the Native American Studies department and graduate program–and long tenure at UC Davis, which began in 1994.
Professor Mendoza will take charge of a thriving and growing center that now includes 21 Faculty Scholars from 4 colleges and schools and 11 departments across campus. CAMPSSAH builds on the Impact Recruitment Initiative (IRI), whose origin was in the call for greater numbers of faculty whose teaching, research, and service focused on the experiences, contributions and aspirations of African-American and African Diaspora students and communities. CAMPSSAH represents the successful institutionalization and broadening of IRI to encompass the recruitment and retention of those faculty who bring multicultural perspectives to the social sciences, humanities and the arts with an emphasis on contributions that elevate the voices and visibility of underrepresented students and communities at UC Davis.
"I am honored and excited to support the mission of CAMPSSAH to keep making UC Davis a place where multiple identities and perspectives are valued and emphasized"  – Zoila Mendoza
And this year, CAMPSSAH has welcomed 5 new Faculty Scholars as part of its fourth cohort:

Assistant Professor, English
Banful's comparative and interdisciplinary research bridges her scholarly, historical interests in and approaches to the study of climate with the contemporary conversations surrounding climate crisis and catastrophe via the literary and visual arts that reflects her commitments to the public humanities and social and environmental justice. Her specializations include African diasporic and postcolonial literary studies, comparative literature, and the environmental humanities. Her dissertation, "The Hostile Tropics: Towards a Postcolonial Discourse of Climate," argued that 'climate' is both an ecological and cultural reality whose meanings were shaped  by European imperialisms. She received her Ph.D. in English and Comparative Literature from Columbia University and comes to U.C. Davis following a Pre-Doctoral Fellowship in Climate and Inequality at the Climate Museum in New York City.

Christoph Hanssmann
Assistant Professor, Gender, Sexuality, and Women's Studies
Hanssmann's interdisciplinary research spans feminist and trans studies; science and technology, studies; and social sciences of health and medicine. His work centers on how relationships between biomedicine and social movements shape the politics of health and science. He works with researchers and activists in feminist, queer, and transfeminist health and justice, and recently completed a manuscript about the transnational emergence of transgender health as an institutionalizing field and public good. In it, he chronicles how certain strands of trans health activism in the U.S. and Argentina have confronted not only regimes of pathologization, but also austerity politics more broadly. Hanssmann has a Ph.D. in sociology from UCSF and an MPH from the University of Washington. He has published individually and collectively in Transgender Studies Quarterly, Medical Anthropology Quarterly, Feminist Formations, and Social Science and Medicine. Chris is part of the Feminist Health Justice Collective, the Star Fem Co*Lab, and the Just Research? collaborative.

Assistant Professor, Sociology
Lerma's research interests include intersectionality, criminalization, education, comparative historical sociology, and qualitative research methods. Her new book project, Intersectional Criminalization en el Valle: The Criminalization of Formerly Incarcerated and System-Impacted Chicanas in California's Prison Alley, examines the intersections of race, gender, sexuality, and geographic location on criminalization processes and experiences. Drawing on life-history interviews with 60 rural formerly incarcerated and system-impacted Mexican American women, she argues that criminalization is an intersectional process and experience that is reflected in everyday interactions, reproduced in social institutions, and embodied in larger systems of white supremacy and hetero-patriarchy. Lerma has developed an analytical framework she calls "intersectional criminalization," which challenges the dominant view of criminalization as a racialized process alone. By reconceptualizing criminalization as a racialized, gendered, and heterosexualized process that is geographically conditioned, the intersectional criminalization approach allows for centering often-neglected group experiences and uncovering hidden mechanisms of punishment that uphold the carceral state. Lerma is a system-impacted Xicana mama scholar born, raised, and still residing in the Central Valley. She received her Ph.D. and M.A. in sociology from UC Merced, and her B.A. in sociology from the University of the Pacific. Lerma has published in Social Problems, Sociological Perspectives, Sociology of Race and Ethnicity, Ethnic and Racial Studies, and co-authored a book chapter entitled, "Student Labor and Centers of Support" in Broke: The Racial Consequences of Underfunding Public Universities. 

Assistant Professor, Psychology
Mosley's research focuses on how group members navigate their social identities and their worlds, and relate to other groups. She studies how people think about, respond to, and engage in acts of cultural appropriation, or acts of out-group cultural use. She received her doctoral degree at the University of Kansas as a member of Monica Biernat's Stereotyping and Judgement Lab. Her dissertation examines the factors that lead to different perceptions of cultural appropriation among racially dominant and subordinated groups. Her collaborative work investigates how children and adults from different background perceive and experience religious curiosity. Mosley recevied an award from the National Science Foundation Graduate Research Fellowship to examine how individuals derive meaning and benefits from discriminatory experiences. She is also committed to conducting research that is international, intersectional, and culturally representative in scope. Her work has appeared in Psychological Inquiry, Journal of Personality and Social Psychology, and the Wiley Encyclopedia of Health Psychology.

Assistant Professor, School of Education
Rusoja's interdisciplinary research lies at the intersection of Latinx/Chicanx studies, critical education/critical literacy studies, and university-community/research-practice partnerships. As a Latina immigrant and activist-scholar, she employs participatory and critical community-based qualitative research methodologies to understand the immigrant rights organizing of Latinx immigrant youth, adults and families. Her research illuminates the fundamental role that communal education, critical literacy, and critical research practice play in the intersectional, and intergenerational, political mobilization of Latinx immigrant youth and their communities. Relatedly, her work aims to explore how critical qualitative research methodologies, including community-based, participatory and practitioner research, can be tools for resisting colonial logics within the grassroots organizing of Latinx immigrant communities, as well as in community-based research and university-community partnerships, including those related to school-community relationships. Rusoja received her Ph.D. in Reading/Writing/Literacy from the University of Pennsylvania's Graduate School of Education (PennGSE). Her scholarly work has been published in Research in the Teaching of English, AERA Open, the Association of Mexican American Educators Journal, and in Literacy Research: Theory, Method and Practice, among others. She is a member of the Literacy Futurisms Collective-in-the-Making.
Primary Category
Secondary Categories
Tags