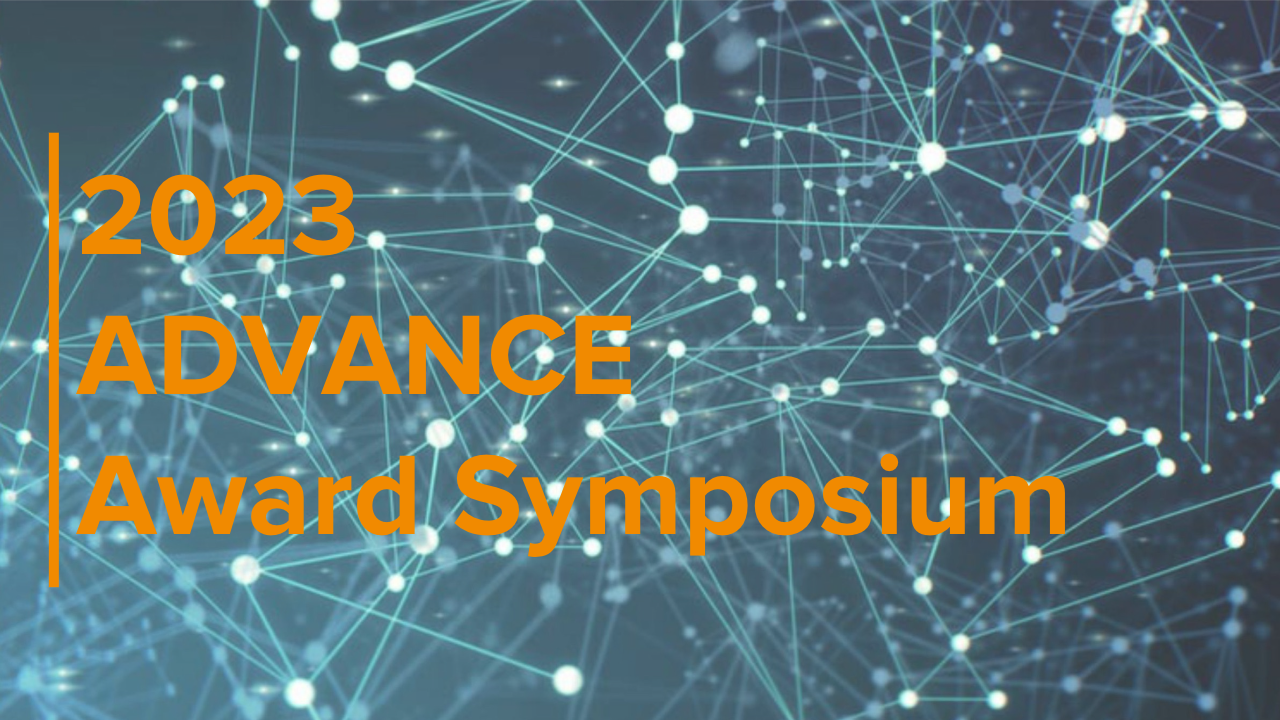 Technology Tools for Advancing Equity: Artificial Intelligence, Accessibility, and Minimizing Misinformation
Awardees and Invited Speakers
Miriam A. Nuño, Public Health Sciences • 

THE MATH OF SOCIAL CHANGE: TRANSFORMING HEALTH EQUITY AND SOCIAL JUSTICE
Every day, we create roughly 2.5 quintillion bytes (enough to fill ~58 billion 32 iPads daily) of data in the US. While big data in the context of social problem solving is limited, they can be used to address some of public health most challenging problems. In this talk, I will share some examples of my research on disease surveillance and signal detection for COVID-19, and the health effects of wildfire exposure in California. I will discuss the critical role of community-based participatory research (CBPR) to promote social justice and empower marginalized communities.
Dean Tantillo, Chemistry • 

NO ONE ACTUALLY NEEDS TO SEE MOLECULES – COMPUTATIONAL CHEMISTRY FOR THE BLIND AND VISUALLY IMPAIRED
An introduction to applied computational quantum chemistry will be accompanied by recent examples highlighting chemical reactions used by plants to construct complex molecules. How such research can be carried out by those lacking sight will then be discussed in detail.
Jesús A. De Loera, Mathematics • 

WHEN IS YOUR DATA SUFFICIENT? LET GEOMETRY HELP YOU DECIDE!
More and more data is collected to train artificial intelligence agents. Machine learning models make decisions (e.g., face recognition) based on data that, when incomplete or insufficient, may lead to incorrect function. In this talk I will discuss several examples where geometry and the shape of data are used to decide on the quality of the data. Mathematics can help artificial intelligence systems become more reliable. What is the responsibility of humans?
Tentative Schedule
| | |
| --- | --- |
| 9:00am | Light Breakfast & Registration |
| 9:20am | Welcome |
| 9:30am | Presentation - ADVANCE Awardee |
| 10:30am | Coffee break |
| 11:00am | Presentation - ADVANCE Awardee |
| 12:00pm | Lunch |
| 12:45pm | Poster session and dessert reception |
| 2:15pm | Presentation - ADVANCE Awardee |
| 3:15pm | Discussion and closing remarks |
Sponsors
Organizing Committee
Mariel Vazquez, Mathematics and Microbiology & Molecular Genetics, Director of the Center for the Advancement of Multicultural Perspectives on Science (CAMPOS)
Naoki Saito, Mathematics, Director of the UC Davis TETRAPODS Institute of Data Science (UCD4IDS)
About the ADVANCE Scholar Award
The ADVANCE Scholar Award program is available for mid-career and senior Academic Senate or Academic Federation faculty who advance diverse perspectives and gender equity in STEM through their teaching, research and service. Two ADVANCE Scholar Awardees are selected each year.
The intent of the ADVANCE Scholar Award is to encourage research, leadership, and outreach to underserved communities and/or mentorship of under-represented students, and to highlight and celebrate the contributions that STEM faculty at UC Davis have made to their fields through outstanding scholarship and mentorship.
Event Category
Tags