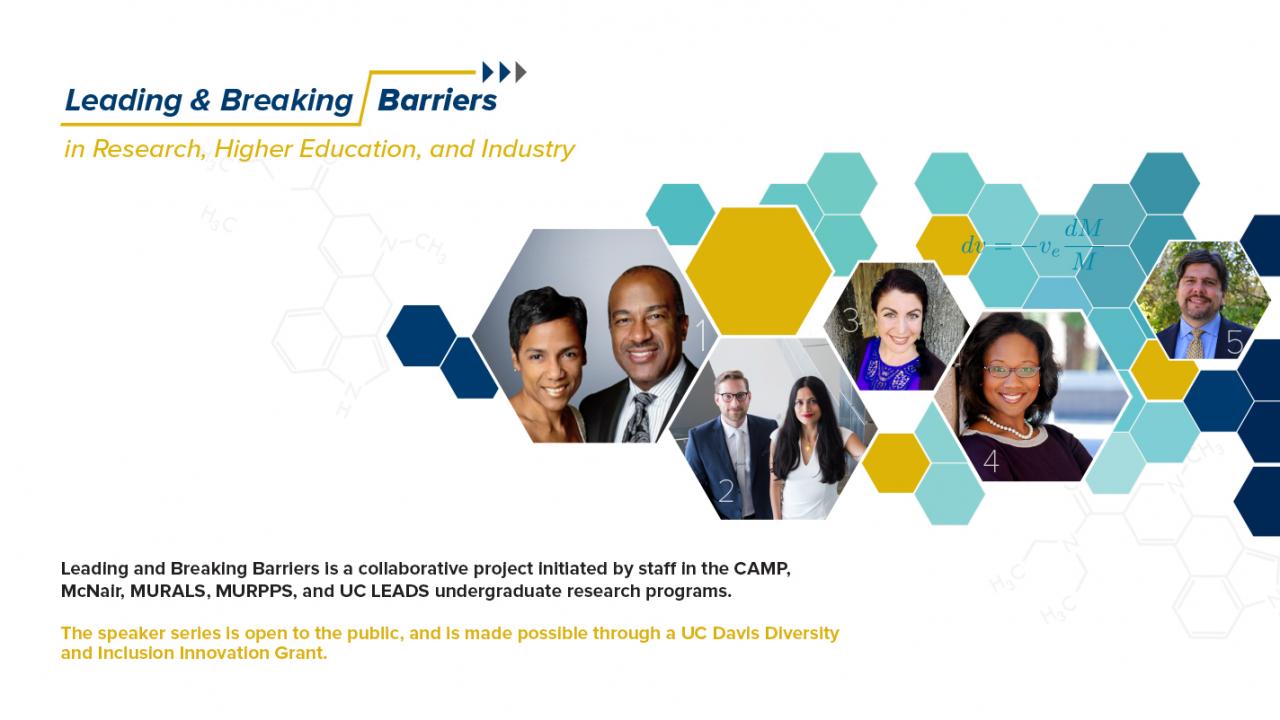 Location
ARC Ballroom A&B
Leading and Breaking Barriers is a dynamic speaker series promoting participation in undergraduate research. With outstanding, diverse speakers from academia and industry, the Leading and Breaking Barriers speaker series will share stories and practices of leadership innovation in STEM fields to inspire students to discover research, and to overturn stereotypes and misperceptions about what research is and who can participate in it.
Events are open to everyone – students, staff, faculty, and the community.
Breaking Barriers in a Big Way in Engineering, Industry, and Higher Ed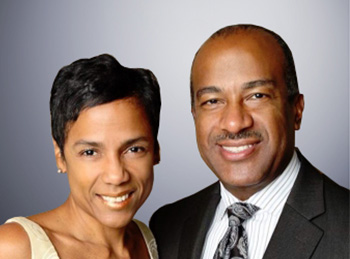 Gary May, PhD
Chancellor, UC Davis
LeShelle May, MA
Senior system/software developer, CNN
Monday, November 6, 2017
4:10-5:00 pm
ARC Ballroom A&B
Gary and LeShelle May have a long history of breaking barriers through pioneering research as well as taking on leadership roles in education and industry. The couple met in Atlanta while tutoring inner-city high school students in math.
LeShelle's distinguished career as a systems/software developer at CNN has been recognized with awards including a Technology & Engineering Emmy, and two Computerworld Smithsonian awards. LeShelle was chapter president of the National Society of Black Engineers at Boston University, where she earned her BS in electrical engineering. She received her MS in operations research from the Georgia Institute of Technology and has served as a leader of the Georgia Tech Alumni Association, including its student mentoring program. Read more about LeShelle May.
Gary is the seventh chancellor of UC Davis, and the first African American to hold that position. Prior to arriving at UC Davis, he was Dean of the College of Engineering at the Georgia Institute of Technology (Georgia Tech). He has won numerous awards for both research and mentorship, including the Presidential Award for Excellence in STEM Mentoring. Read more about Gary May.
About the Series:
Leading and Breaking Barriers is a speaker series created by Lolita Adkins, Program Manager in the Undergraduate Research Center and funded by a Diversity and Inclusion Innovative Grant.  The series is a collaborative project by staff in the CAMP, MCNAIR, MURALS, MURPPS, and UC LEADS undergraduate research programs. 
The series is co-sponsored by the Undergraduate Research Center, and receives additional support from Undergraduate Education, and various departments.