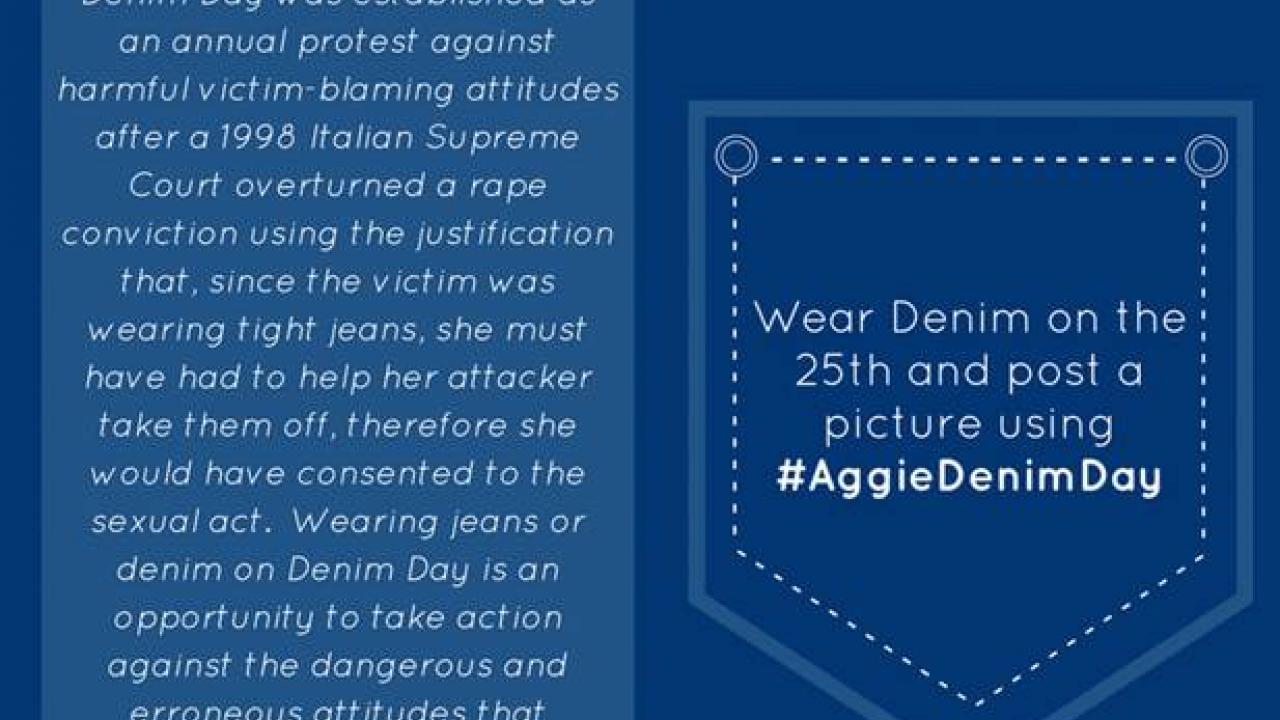 Since 2001, April has been nationally recognized as Sexual Assault Awareness Month (SAAM). The purpose of SAAM is to raise awareness about erroneous attitudes and myths about sexual assault and to show support for survivors of violence in our community. Even though we are nearing the end of April, there are still opportunities at UC Davis to get involved and make a difference.
This year, Wednesday, April 25th commemorates a 1990s protest in which women wore jeans to their jobs in the Italian Parliament to protest an appellate court ruling that suggested a woman in jeans could not have been a victim of rape, saying the woman's jeans could not have been easily removed without her helping. Wearing jeans on Denim Day is now recognized as an annual protest against harmful victim-blaming attitudes. 

Looking for ways to get involved with Denim Day at UC Davis?
Show your support for survivors and combat damaging and erroneous attitudes about sexual assault by wearing jeans or denim on Wednesday, April 25th

If you are a supervisor or manager, talk to your staff about the purpose of Denim Day and allow them to participate by wearing jeans on April 25th

Post a picture of yourself, your friends, and/or your team on social media using the hashtag #AggieDenimDay
More information about the history of Denim Day can be found at http://denimdayinfo.org/about
Additional events and suggestions on how to get involved during SAAM can be found at https://www.facebook.com/ucdavisCVPP/
A calendar of SAAM events can be found at http://wrrc.ucdavis.edu/calendar.html
Please feel free to contact CARE at ucdcare@ucdavis.edu for more information about what you and/or your department can do to get involved with Sexual Assault Awareness Month and Denim Day.