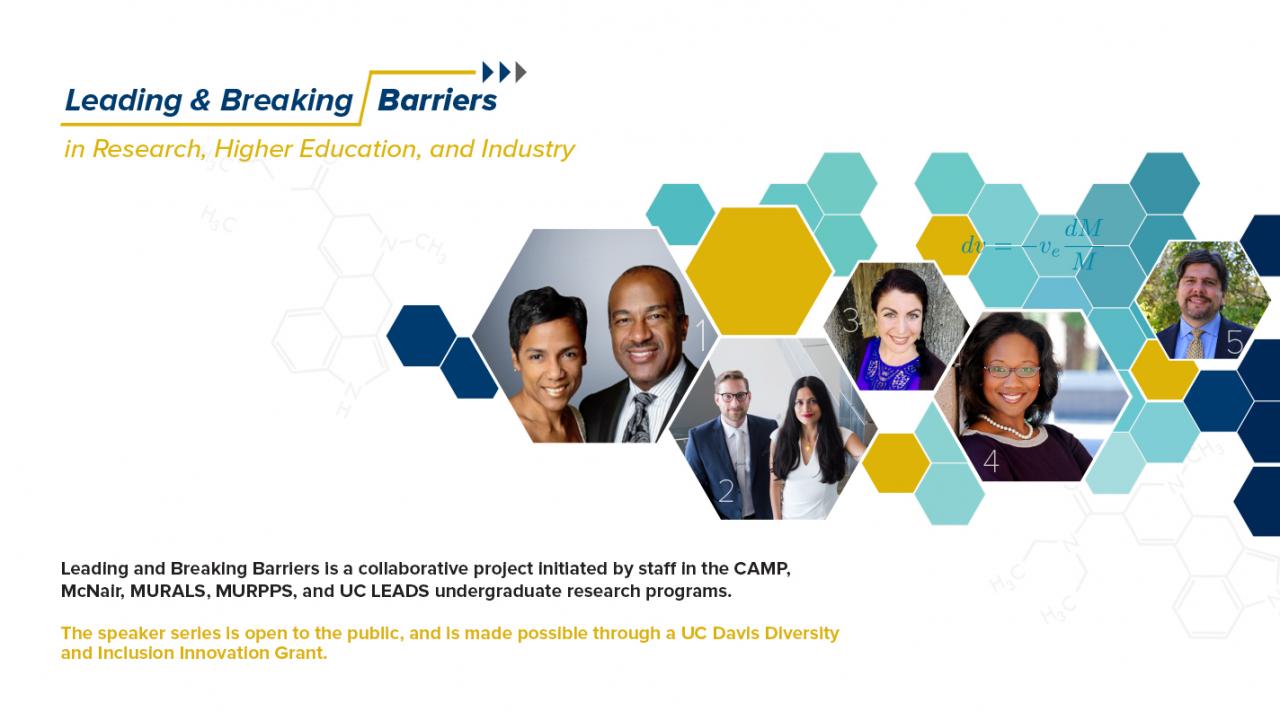 Location
Student Community Center, Multipurpose Room
Leading and Breaking Barriers is a dynamic speaker series promoting participation in undergraduate research. With outstanding, diverse speakers from academia and industry, the Leading and Breaking Barriers speaker series will share stories and practices of leadership innovation in STEM fields to inspire students to discover research, and to overturn stereotypes and misperceptions about what research is and who can participate in it.
Events are open to everyone – students, staff, faculty, and the community.
Leading for Equity in Higher Education
Oscar Dubón, PhD
Professor of Material Science & Engineering 
Vice Chancellor for Equity and Inclusion
University of California, Berkeley
Please RSVP
Oscar Dubón is Professor of Materials Science & Engineering, Faculty Scientist at the Lawrence Berkeley National Laboratory, and  Vice Chancellor for Equity and Inclusion at UC Berkeley. His research focuses on understanding the role of crystalline imperfections on the electronic behavior of materials for applications in semiconductor technologies. He received a B.S. from UCLA in 1989 and M.S. and Ph.D. from Berkeley in 1992 and 1996. 
Dubon brings a dual perspective to breaking barriers. "I personally have been in the UC system as a minority student since I was 17 years old. As an undergraduate, I was exploring questions about voice and community....Obviously, I'm an engineer, but I'm an engineer with certain identities and these intersections really do matter. It's something I've thought a lot about over the last few decades when I've seen equity and inclusion issues come up over and over again.
"Engineers sometimes give themselves too much credit for solving the problems of society, but oftentimes what we don't do is really listen to all the voices that need to be at the table in order for those solutions to truly matter. That's something that's resonated with me for a long time — having this mindset of solving problems and innovating, but also taking into account who we're solving problems for and what is their role in articulating the problem and the solution." Quoted in Dubón aims to innovate as new vice chancellor of equity and inclusion, Berkeley News, June 22, 2017. 
About the Series:
Leading and Breaking Barriers is a speaker series created by Lolita Adkins, Program Manager in the Undergraduate Research Center and funded by a Diversity and Inclusion Innovative Grant.  The series is a collaborative project by staff in the CAMP, MCNAIR, MURALS, MURPPS, and UC LEADS undergraduate research programs. 
The series is co-sponsored by the Undergraduate Research Center, and receives additional support from Undergraduate Education, and various departments.