Funding opportunities available to promote diversity and inclusion on campus and in higher education

UC Collaborative to Promote Immigrant and Student Equity (UC PromISE)
Application deadline is March 22, 2019
The newly-established UC Collaborative to Promote Immigrant and Student Equity (UC PromISE) aims to promote policy-relevant research on how immigration policies have exacerbated vulnerabilities among undocumented students and expanded collateral consequences to citizen students with undocumented parents.

Science Translation and Innovative Research (STAIR) Grant: FY 2018-19
 Application deadline is March 5, 2019
Managed by Venture Catalyst and funded by the UC Davis Office of Research, the Science Translation and Innovative Research (STAIR[1]) Grant program provides funding to UC Davis researchers to support translational science and innovative research, enabling demonstration of early proof-of-concept and commercial potential or feasibility for technologies being developed with the intent of commercial translation.

UC MEXUS - CONACYT Postdoctoral Research Fellowships for Mexican Ph.D.s at University of California Campuses and for UC Ph.D.s at Mexican Institutions
Proposals due February 25, 2019
The primary objective of this program is to advance academic scholarship by emerging Mexican researchers and UC scientists and scholars in the early stages of their careers, after obtaining their Ph.D.

UC MEXUS-CONACYT | Grants for Collaborative Projects
Proposals due February 25, 2019
The University of California Institute for Mexico and the United States (UC MEXUS) and El Consejo Nacional de Ciencia y Tecnología (CONACYT) are pleased to announce a call for proposals to provide seed funding to teams of UC and Mexican researchers with beginning projects in basic and applied collaborative research, instructional development, and public service and education projects that apply research to public issues.
Women in Medicine and Health Sciences Program Leadership Development Fellowship
Application due March 15, 2019
The WIMHS Fellowship leadership development opportunity is an innovative WIMHS development program designed to promote excellence in women's careers in biomedical sciences along with developing women leaders and scholars in the UC Davis Schools of Health.
This 18-month program (July 1, 2019 – Dec 31, 2020) uses a hybrid approach, including direct mentoring, on-line activities, and Fellow-driven activities. Fellows will be provided up to 15% salary support and must commit 15% time (6 hours per week) and work on a dedicated project. Administrative approval for release time from the faculty member's academic leader is also required.
Interested faculty should submit their completed application and be prepared to upload both CV and signed departmental support letter copies via the link below by March 15, 2019.
Soroptimist Live Your Dream: Education & Training Awards for Women
Applications due November 15, 2018
You are eligible to apply if you:
are a woman with primary financial responsibility for yourself and your dependents
are attending an undergraduate degree program or a vocational skills training program
have financial need
Apply for a LIVE YOUR DREAM AWARD at: bit.ly/LYDA-apply
Flyer here.
UC Davis Global Affairs Seed Grants for International Activities
Proposals due November 15, 2018
Global Affairs announces the 2018 - 2019 call for proposals for its Seed Grants for International Activities program. As a tier-one global research institution, we hope to support innovative new programs that advance knowledge, enrich student learning and help solve society's most pressing problems, with a global focus. We encourage faculty from all schools and colleges to submit proposals. 
Global Affairs encourages applications for proposals that:
Foster international research collaborations

Create innovations in internationalizing the curriculum

Build new interdisciplinary, international partnerships
Information regarding the 2018-19 call for proposals and proposal requirements can be found at: https://globalaffairs.ucdavis.edu/funding-resources/seed-grants/proposals.
Mentoring at Critical Transitions: Wakeham Fellowship
Applications due July 30, 2018
Mentoring at Critical Transitions, a UC Davis faculty development program, is pleased to announce its competitive awards program for participating faculty mentors. Up to five $10,000 fellowships will be awarded for mentors to provide support for one or more of their graduate student mentees.
View Proposal Guidelines and Award Timeline
Frederick Douglass Global Fellowship
Applications due October 1, 2018
Next summer, ten students from Minority Serving Institutions (MSIs) will receive scholarships to develop their intercultural skills and learn about the rich culture and history of Rio De Janeiro, Brazil. These students are part of the third cohort of the Frederick Douglass Global Fellowship program (FDGF), a program that seeks to break down the barriers of cost, curriculum, and culture to make study abroad accessible to students from MSIs. This program is one of several initiatives included in a partnership between the Council on International Educational Exchange (CIEE) and the Penn Center for Minority Serving Institutions (CMSI).
Click Here for the Full Application Instructions and Submission Link 
SUMMER 2018 RESEARCH FELLOWSHIP




AFFORDABILITY AND RISK OF DISPLACEMENT IN AFRICAN AMERICAN COMMUNITIES
APPLICATIONS DUE APRIL 30, 2018
Download the flyer. The National Trust for Historic Preservation is seeking graduate students for its Summer 2018 African American Cultural Heritage Action Fund Research Fellows program. As Research Fellows, selected students will contribute to a new research project from the National Trust's Preservation Green Lab focused on affordability and risk of displacement in cities with significant African American populations.  
A total of ten Research Fellows will be selected and will be tasked with conducting case study research in neighborhoods with significant African American history. One Fellow will be selected for each of the following study cities and will be tasked with studying one or more neighborhoods in their respective city. Study cities and locales for Fellows include: Atlanta, Birmingham, Chicago, Los Angeles, Louisville, New York, Oakland, Philadelphia, St. Louis, Washington, D.C. 
This Fellowship program will run from June 12, 2018 to August 12, 2018, but Research Fellows may elect to complete their case study research on their own schedule so long as they participate in regular check-in calls with the Preservation Green Lab research team.
Individuals studying Urban Planning, Public Policy, Historic Preservation, Geography, African American Studies, History, Sociology, Anthropology, or related fields are encouraged to apply. Individuals with personal or professional connections to African American communities or community organizations, especially communities or community organizations in their selected study city, are preferred. Students at the graduate level are strongly preferred.
If you are interested in serving as an African American Cultural Heritage Action Fund Research Fellow, please submit a cover letter, resume, contact information for two to three professional or academic references, and a sample of past work to Mike Powe, Director of Research, at 744511-CJB-0@nthp.hrmdirect.co m. Please be sure to include mention of the study city you would like to research.
2018 WRRC Summer 

Graduate Research Award
Application deadline: April 15, 2018
The Women's Resources and Research Center is pleased to announce the availability of summer awards for UC Davis graduate students. We invite applications from students with marginalized gender identities (such as women, transgender, non-binary, and nonconforming) whose research projects promote gender equity.
Who Can Apply:
UC Davis graduate students completing their terminal degrees (MA, MS, PhD and MFA) at any stage in their graduate studies

Must graduate no earlier than December 2018

Previous WRRC Summer Graduate Research Award recipients are not eligible
Visit the WRRC's award website for more information
Feminist Research Institute Graduate Summer Research Fellowships
The Feminist Research Institute invites proposals from UC Davis graduate students for summer funding whose work engages with feminism or takes a feminist approach in their research. Projects should seek to realize the potential of feminism to ask new questions, develop new methodologies, provoke innovative practices, create new connections, reach out to communities, and engage new audiences.
Who Can Apply: UC Davis graduate students completing their terminal degrees (PhD and MFA) at any stage in their graduate career with a clearly defined research project. Must graduate no earlier than December 2018.
Award Amount: Up to $2,000
Application Deadline: April 25, 2018
Awards Announced: Late May 2018
Funding Time Frame: June 2018 to September 2018 
View the full call for proposals
Feminist Research Institute 2018-19 Seed Grants
The Feminist Research Institute (FRI) invites proposals from UC Davis faculty for collaborative projects that use feminist approaches to engage in transformative, trans-disciplinary research. Seed grant funding may be used to develop a promising idea, pilot-test a method, gather preliminary data, further an ongoing collaboration, or otherwise provide support that will improve a project's chances of receiving external funding. Proposals are encouraged that involve collaboration with faculty from more than one college/school.
Who Can Apply: UC Davis Academic Senate or Academic Federation faculty. Faculty can only be involved in one seed grant, and cannot be current members of the FRI Board of Directors.
Award Amount: Up to $10,000
Application Deadline: APRIL 15, 2018
Awards Announced: May 2018
Funding Time Frame: June 2018 to June 2019
View the full call for proposals
UC MEXUS-CONACYT Collaborative Research Grants
UC MEXUS-CONACYT Postdoctoral Fellowships
Application deadline: March 19, 2018
UC MEXUS has announced the opening of their 2018 Calls for Proposals for the UC MEXUS-CONACYT Collaborative Research Grants and the UC MEXUS-CONACYT Postdoctoral Fellowships. If you would like more information about these programs please visit their website at: www.ucmexus.ucr.edu.
To visit the programs individually, please follow the links below:
UC MEXUS-CONACYT Collaborative Research Programs: 
http://ucmexus.ucr.edu/funding/grant_collaborative.html
UC MEXUS-CONACYT Postdoctoral Fellowships:
http://ucmexus.ucr.edu/funding/fellowship_post_doc.html
UC Davis Humanities Institute - Reading, Writing, and/or Collaboration Groups for 2017-2018
Application deadline: November 14, 2017
The UC Davis Humanities Institute is offering funding for faculty and graduate students in the humanities, arts, and humanistic social sciences who are interested in forming reading, writing and/or collaboration groups. Groups may apply for up to $300 per group. The funds may be used to defray the costs of refreshments or meals associated with workshops or regular group meetings. DHI funds for the groups will be sent to organizers' departments or programs. The program is open to all faculty and graduate students, but junior faculty are particularly encouraged to apply.
Download the Call for Proposals. Submit applications online.
The Nancy Weiss Malkiel Scholars Award
Application deadline: December 1, 2017
The Nancy Weiss Malkiel Scholars Award is supported by the Andrew W. Mellon Foundation and administered by the Woodrow Wilson National Fellowship Foundation. The Malkiel Scholars Award offers a $17,500 stipend—$10,000 to be used for summer research support and $7,500 for research assistance during the academic year. The award is structured to free the time of junior faculty who have passed their midpoint tenure review—including those from underrepresented groups and others committed to eradicating disparities in their fields—so that they can both engage in and build support for systems, networks, and affinity groups that make their fields and campuses more inclusive.
Find more information and the application here.

Howard Hughes Medical Institute, Hanna H. Gray Fellows Program
The Howard Hughes Medical Institute seeks to increase diversity in the biomedical research community. Through the Hanna H. Gray Fellows Program, HHMI will recruit and retain individuals from groups underrepresented in the life sciences.

Council of Graduate Schools Award for Innovation in Graduate Education
This award program particularly encourages innovations that promise to improve the success of a diverse and inclusive student population. Proposals are due on September 8, 2017.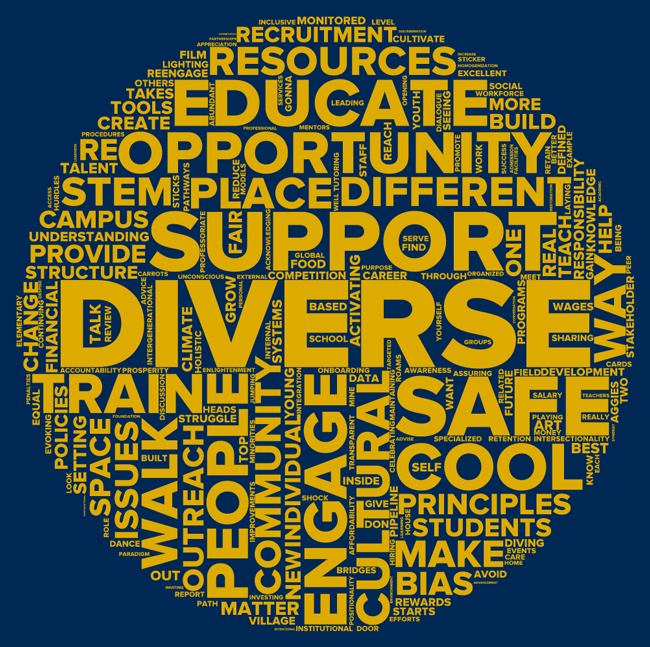 Principles of Community Award Competition
The Office of Campus Community Relations in partnership with the Student Assistants to the Chancellor, invite all UC Davis registered student clubs or organizations to apply for the 2017 Principles of Community Award Competition. 2017-18 information coming soon!

2017 Innovation Grant
Do you have an idea for a project or program that will support the goals of the UC Davis Strategic Vision? If so, consider applying for a DI Innovation Grant.