Caring for Ourselves and Our Community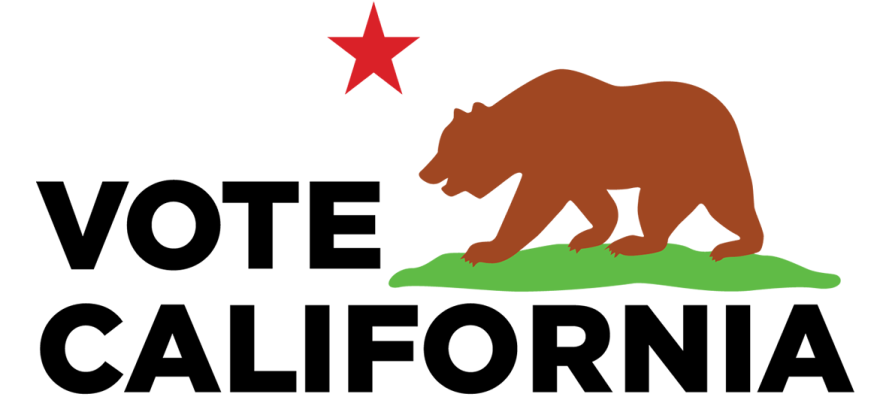 Thank you for visiting our Election 2020 webpage. We have gathered information from a wide variety of non-partisan sources to help you understand how to get involved in the election by exercising your right to vote and to be informed about the issues at stake. For many of us, this election is provoking deep anxiety about the coming weeks and the potential consequences of the election, so we have also included a number of wellness resources to help you to care for yourself and your community.
Important Dates and Relevant Events
UNPRECEDENTED
"Unprecedented" has become the ubiquitous descriptor of 2020. Covid-19, racial injustices, wildfires, and other crises have had profound impacts on people's safety, health, finances, and levels of stress. With Election Day looming, it is likely that this event may cause many to feel additional stress, no matter what the outcome may be. In the midst of these unprecedented times, how can we teach and support students in a way that accounts for the impact of ongoing and emerging crises?
Workshops for Graduate Students
Everything is Not Fine: Supporting Students During Difficult Times
Thursday, October 29, 2020
11:00 a.m. - 12:00 p.m.
And the Winner Is: Supportive Response to the Distressed Undergraduate Student
Monday, November 2, 2020
1:00 p.m. - 2:00 p.m.
Workshops for Faculty
And the Winner Is: Supportive Response to the Distressed Graduate Student
Tuesday, October 27, 2020
12:00 p.m. - 1:00 p.m.
Addressing the Elephant in the (class)Room: The Impact of Crises on Student Learning
Wednesday, October 28, 2020
3:00 p.m. - 4:00 p.m.
Advising and Mentoring Graduate Students and Scholars Remotely
Thursday, October 29, 2020
12:10 p.m. - 1:00 p.m.
October 5: California's Secretary of State begins to mail vote-by-mail ballots to all registered voters.  
October 7: Women, Voting, and US Empire, Part of a Davis Humanities Conversation Series on Democracy in Crisis, Democracy in Movement(s), hosted by the UC Davis Humanities Institute. Recording available on the UC Davis Humanities Institute YouTube channel.  
October 15: An Election Day Preview, hosted online by the UC Davis School of Law. Join UC Davis Law professors who will cover subjects ranging from criminal, immigration, and health law to voter suppression in the upcoming election. Starts at 12:00pm.
October 19: Last day to register to vote online in California. After this date, you will need to complete the Same-Day Voter Registration process.
October 22: If you are mailing your ballot back, send it by the 22nd to allow a minimum of 7 business days to reach your county's election office.
October 27: Deadline to request a vote-by-mail ballot to be mailed to the registered voter.
October 27: "Growing as a Community: Coping in Uncertain Times" will discuss preparation for the upcoming election. Starts at 12:00pm.
October 28: "Making Sense of an Election Like No Other." The Friends of the Sacramento State Library invite you to join a timely, engaging panel discussion examining the dynamics of the 2020 presidential election.  Starts at 1:00pm.
October 28: "California on the Ballot:
What's the Deal with Direct Democracy?" Join California Humanities for a conversation that delves into the history of California's ballot initiatives and explores how we got to where we are today. Register and learn more.
October 29: "Elections and Voting in America," with History Professor Gregory Downs. Starts at 4:00pm. Zoom link here. Submit questions in advance here.
October 31: Early voting begins in many California counties (including Yolo County!). Find locations.
November 2: "Election Media Detox" at 5:30pm - We are currently witnessing one of the most toxic election cycles in recent history. Our media ecology is overwhelming, and awash with fake news and echo chambers; our social media ecology stalks us, always intruding into our lives, pushing itself in with notifications. Associate  Professor Margaret Kemp will lead us through a somatic media detox exercise and Anuj Vaidya (Associate Instructor in Theatre and Dance and PhD student in Performance Studies) will share their media literacy practice. See the attached flyer for more information and access information.
November 3: Election Day! In-person voting takes place, and it is the last day vote-by-mail ballots can be postmarked. Same day voter registration conditional available.
November - December: The Office for Health Equity, Diversity and Inclusion will offer Healing circles after the election through December. Details to be added to the HEDI event calendar.  
Voter Information
​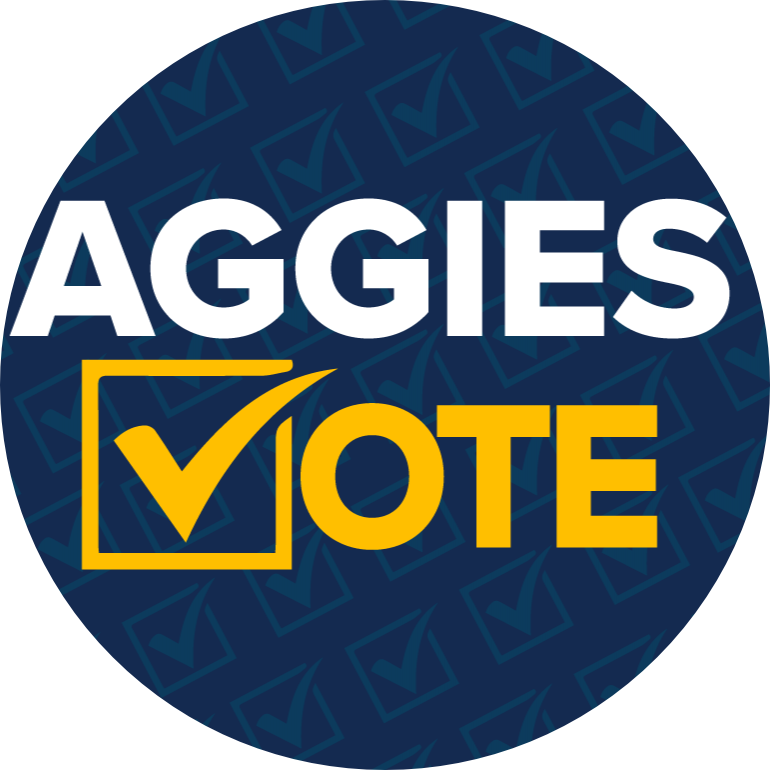 Information on voter registration • California Ballot Measures • Resources for UC Davis students • ASUCD Voter Guide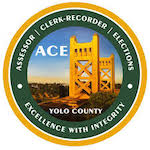 Voter Assistance Center • Ballot drop box locations • Searchable using an easy-to-use interactive map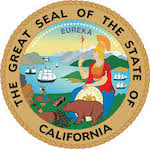 Where is my polling place? Will I need to bring identification? What voting system will I use? Voter information guides • First time voter checklist
 
Information on voting by absentee voting or voting by mail, and early voting. Visit your state election office website or contact your local election officials to find out if you can vote by mail. Or, use Can I Vote to go right to your state's absentee voting page. 

Wellness

 

Resources 

 
The AB540 & Undocumented Student Center has put together a list of spaces and resources available to immigrant, undocumented, and or folks with mixed-immigration status families.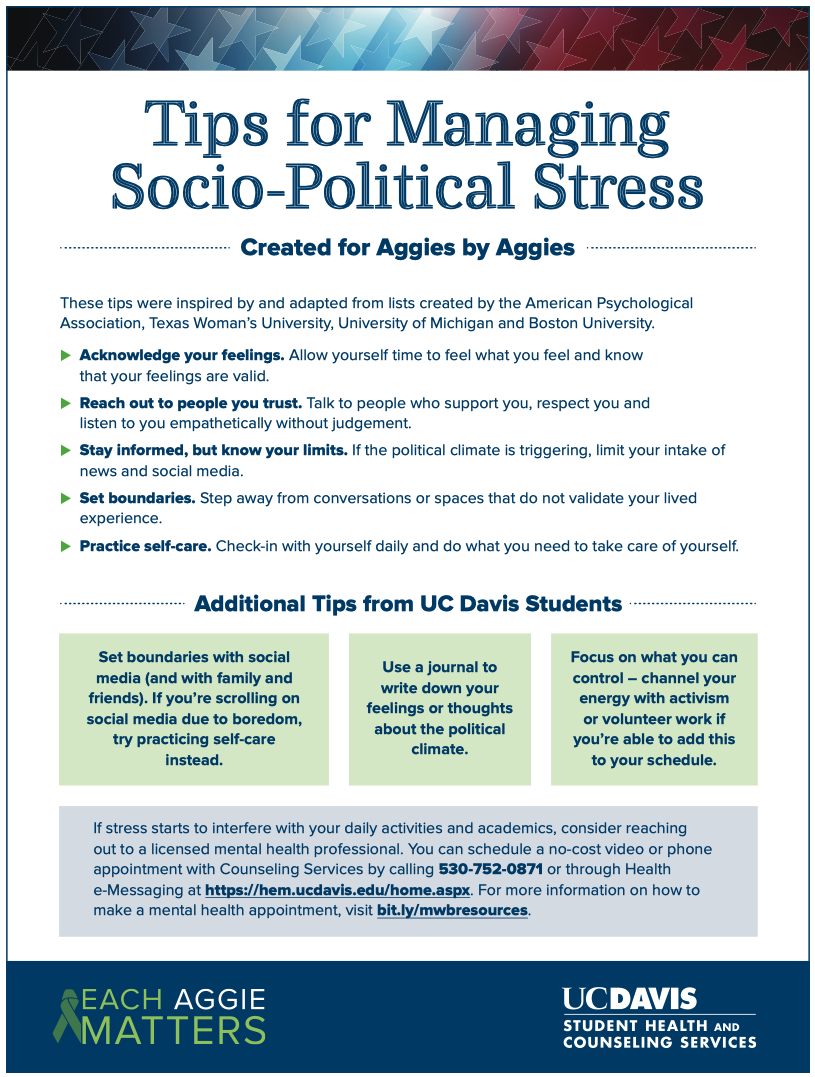 Each Aggie Matters is UC Davis' Mental Health Movement uniting the campus community in an open and affirming dialogue about mental health. Its website includes a mental health calendar of events, an interactive map to help find mental health support and resources, mental well-being resources, student clubs and organizations. 
Each Mind Matters is California's Mental Health Movement uniting everyone who shares a vision of improved mental health and equality. Its website includes information about and resources specifically for young adults, children and families, veterans, older adults, diverse communities, prevention, mental health challenges, and suicide prevention.
The UC Davis University Religious Council (URC) hosts events throughout the year, which can be found under on the AggieLife events calendar, using the search term "spirituality." The URC comprises a diverse group of spiritual and ethical organizations from throughout the region and provides an official venue for engaging with the campus community and university administration. 
The UC Davis Academic and Staff Assistance Program offers confidential, cost free assessment, intervention, consultation and referral services to all UC Davis and UC Davis Health faculty, staff and their immediate families. Services are being offered remotely by phone or appointment.
The UC Davis Student Health and Counseling Services offers various opportunities for students to engage in online workshops and podcasts aimed at improving personal skills.  
Counselors

 

are available to meet with UC Davis students via secure video conferencing or by telephone at no charge. Appointments may be scheduled

 

via the

 

Health-e-Messaging

 

secure portal or by calling 530.752.0871

Podcasts and

 

You Got This (YGT) Workshops

 

on topics such as

 

Coping with Emotions, Coping with Anxiety

, Mindfulness, and Self-Care

. 

 

Schedule for Fall 2020:

Mondays, 2:10 – 3:00 pm (Mindfulness)

Tuesdays, 2:10 - 3:00 pm (Coping with Emotions)

Wednesdays, 11:00 – 11:50 am (Self-Care

)

Fridays, 11:00 – 11:50 am (Coping with Anxiety

)

 
UC Davis Health Equity, Diversity, and Inclusion hosts a Coping as a Community webinar series that cover topics such as dealing with anxiety.
Our partners at the University of California, San Francisco assembled a document, "Preparing for the Election, A Guide for Leaders," with advice about how to help those around you manage what may be difficult times.  
Recommended Readings on Voting 
Only citizens can vote in federal elections. Native Americans were not granted U.S. citizenship until 1924.  Puerto Ricans who live on the island do not have representation in Congress nor do they vote in presidential elections because Puerto Rico is a territory of the United States not a state. Today, many other Latinx people, like Asians, are immigrants who can only vote if they become naturalized citizens.  However, in the case of Mexican Americans in the Southwest, gerrymandering and other mechanisms historically undercut their voting power.  The current push for statehood for Washington D.C. is in part an effort to secure representation in Congress and the vote. 
Unfortunately, attempts to suppress the vote also have a long history in the United States. For more information, the web is abound with resources: 
Talking Points Memo, "Today's Voter Suppression Tactics Have A 150 Year History," written by Gregory Downs, UC Davis Professor of History

Rebels in the post-Civil War South perfected the art of excluding voters, but it was yankees in the North who developed the script.

Carnegie Corporation of New York, "Voting Rights: A Short History"

The struggle for equal voting rights dates to the earliest days of U.S. history. Now, after a period of bipartisan efforts to expand enfranchisement, Americans once again face new obstacles to voting.

American Civil Liberties Union, "Voting Rights Act: Major Dates in History" 

The Voting Rights Act is a historic civil rights law that is meant to ensure that the right to vote is not denied on account of race or color.

Student Nonviolent Coordinating Committee, Voting Rights Photography 

A digitized photography collection from the Civil Rights Movement era.

U.S. National Park Service, "African American Women and the Nineteenth Amendment"

African American women, though often overlooked in the history of woman suffrage, engaged in significant reform efforts and political activism leading to and following the ratification in 1920 of the Nineteenth Amendment.

Remezcla, "A Brief History of Latino Voting Rights Since the 1960s," written by Raquel Reichard, Journalist
Brennan Center for Justice, "Ensure Every American Vote"

American elections are marred by an infrastructure that is rickety, excludes too many, and is prone to partisan manipulation and deliberate voter suppression that often targets communities of color and young people. 

Native American Rights Fund (NARF), Native American Voting Rights
Netflix Limited Series, "Whose Vote Counts, Explained"