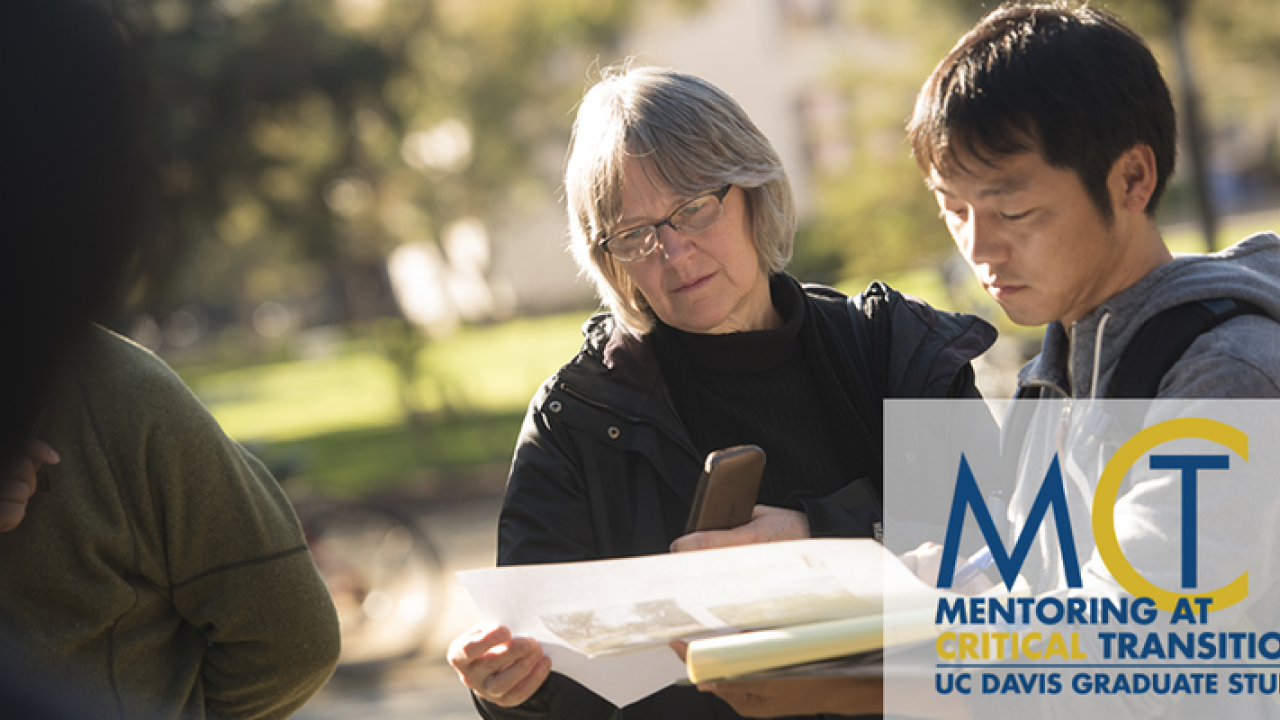 Location
Memorial Union, Garrison Room
Mentoring at Critical Transitions - UC Davis Graduate Studies
Please note that this seminar is for UC Davis faculty. Please refer to our event calendar for a list of events for students and postdoctoral scholars.
The Mentoring at Critical Transitions (MCT) Program is a brown-bag seminar series offered by Graduate Studies to enhance the preparedness of UC Davis faculty in areas affecting the mentoring, academic socialization, and overall success of our diverse graduate student population during the three critical graduate school transitions: from admission to graduate student, coursework through the qualifying examination and research and writing to professional career.
MCT seminars provide Davis faculty, who are already experts in their respective academic disciplines, with the professional development tools necessary for them to focus on educational milestones, measures of student success, time to degree, building and sustaining inclusive environments, and redefining modes of mentoring and advising that are instrumental to graduate student success.
Discover new methods and strategies for making the most out of your faculty-student mentoring relationship and get a head start on establishing eligibility for next year's Mentoring at Critical Transitions Wakeham Fellowship.
FAQs
Will this event count toward my eligibility for the MCT Wakeham Fellowship?
Yes. To be eligible to apply, faculty mentors must attend at least three of the five MCT workshops or panels offered during the 2017-2018 academic year.
Can I send a colleague or a graduate student mentee in my place? 
Attendance by faculty colleagues or graduate student mentees, in lieu of the faculty mentor 's attendance, will not count toward MCT Wakeham Fellowship eligibility. Each faculty mentor must attend in person.
Where can I get more information about the MCT seminar series and fellowship program?
More information about both the seminar series and the fellowship program can be found on the UC Davis Graduate Studies Website.