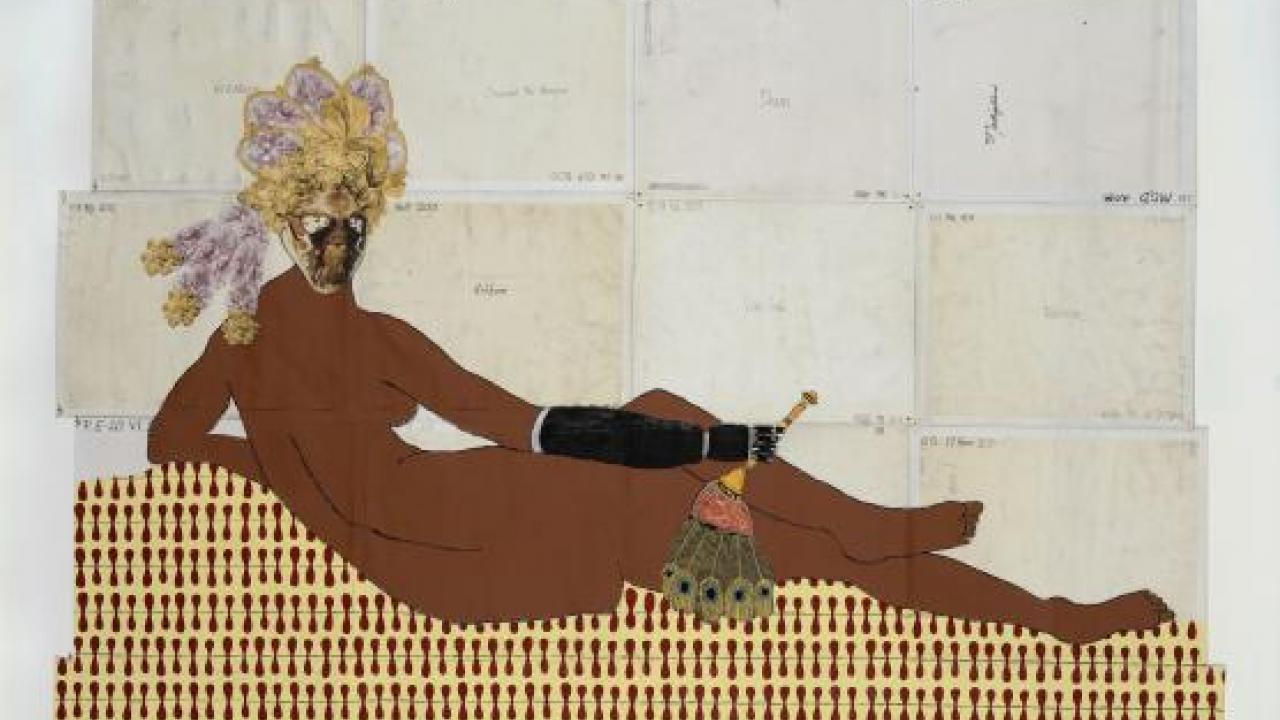 Location
Wright Hall, Lab A
KATHERINE SHERWOOD
Functional Diversity Visiting Artist Series
Artist Katherine Sherwood is the inaugural presenter in Functional Diversity & Art: A Creativity Engagement, a new visiting artist series that uses contemporary art practice to explore the concepts of disability, varying abilities and how diverse subjectivities are expressed through creative means. 
The first presentation is set for Thursday, Nov. 2 at 4:30 p.m. in Wright Hall, Lab A.
This creative engagement series will be offered to the campus community and wider public during AY 2017-18. The series will include presentations and lectures, Fall 2017 and Winter 2018 first year seminars, and a culminating exhibition of student artworks created in responses to the work of these visiting artists.
Katherine Sherwood's acclaimed mixed-media paintings gracefully investigate the point at which the essential aspects of art, medicine, and disability intersect. In addition to showing regularly throughout the United States, she co-curated the exhibition "Blind at the Museum" at the Berkeley Art Museum, and organized an accompanying conference at UC Berkeley. Sherwood was a recipient of a Guggenheim Fellowship 2005-2006 and a Joan Mitchell Foundation grant 2006-2007. Katherine is a professor emerita at UC Berkeley in the Art Department and the Disability Studies Program where she taught Art, Medicine & Disability and Art & Meditation. She is the artist-in-residence at the Helen Wills Neuroscience Institute and the co-founder of the art and disability collective- The Yelling Clinic.
Functional Diversity & Art: A Creativity Engagement is a creative engagement series offered to the campus community and wider public during 2017-18. The Fall 2017/Winter 2018 series includes presentations and lectures and first year seminars that asks students to create responses in various media to these visiting artists and critics.
Contemporary artists are actively exploring questions about bodies, ability, perception, and normativity – producing work of all genres and media that diversifies the expression of human experience. This work allows for inventive forms of access and inclusion while also illuminating our existing systems of exclusion. The parallel field of critical disability studies offers a productive powerful site that intersects issues of race, gender, sexuality and technology.
Major Funding for the series comes from the Office of Student Affairs Diversity & Inclusion Grant, Department of Art & Art History, & Department of Cinema and Digital Media. 
Co-Sponsors include American Studies, Center for Mind & Brain, Davis Humanities Institute, Design, Music, Performance Studies, SickSpits Spoken Word Collective.