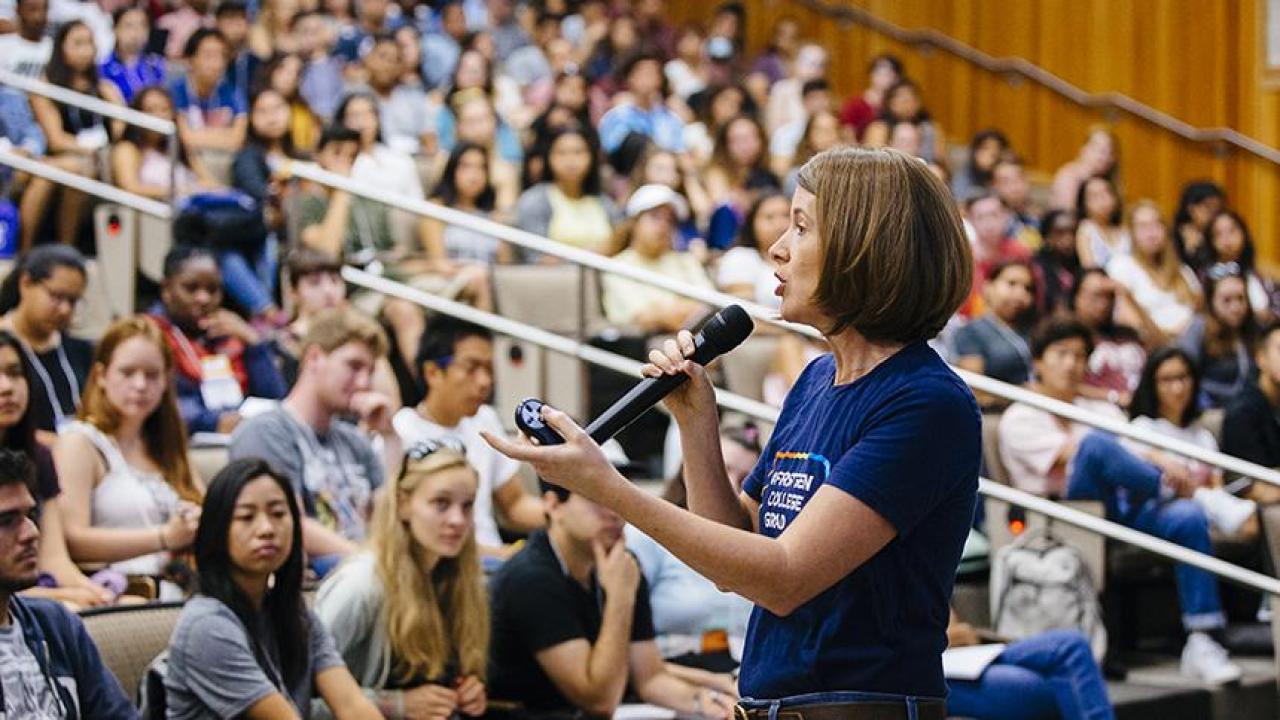 Originally posted by Julia Ann Easley on September 25, 2017 in University News
Sons and daughters of parents who never went to or completed college will be in the classrooms and lecture halls when instruction starts this week at the University of California, Davis. And some of them will be at the front of the class — professors and lecturers sporting T-shirts that identify them as first-generation college graduates. 
Nearly 400 UC Davis faculty are sharing their stories to offer encouragement and help to the 40 percent of undergraduates who would be in the first generation of their families to earn four-year university degrees.
"Many of us had people who helped us on our journey, and we're doing that now through mentorship to students," said Carolyn Thomas, vice provost and dean for Undergraduate Education and professor of American studies.
Connecting students with mentors
The First-Generation Faculty Initiative at UC Davis is part of a UC systemwide effort to connect first-generation students with faculty mentors who have walked in their shoes and to provide resources to help the students continue to succeed.
The T-shirts and the personal stories and directory on the initiative's website invite students to contact faculty who grew up the children of fishermen, factory workers, single parents and immigrants.
From every college and professional school on the campus, they show they understand the challenges many first-generation students face: pioneering their way through college, surmounting financial circumstances, or navigating expectations about their choice of major.
You belong here
Recounting his own experience, economics professor Alan M. Taylor said he wants first-generation students to know they have earned their way into UC Davis and belong here.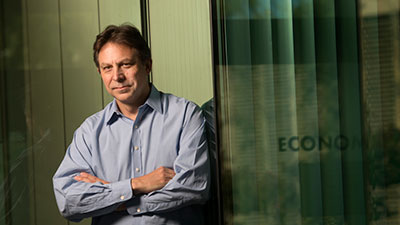 From a coal-mining village in Northern England, he was raised by working-class parents who taught him to value education. And during his undergraduate studies at Cambridge University, a conversation with a mathematics professor helped Taylor cement his belief in himself.
"Here is one of the smartest logicians in the world, and who am I to be sitting here talking to him?" Taylor said. "But he made you feel like you belong. It didn't matter where you were from. His view was that you were admitted and you earned it, and now we're going to get on with it."
Today, Taylor is one of the most respected international macroeconomists in the world and has advised the World Bank, the International Monetary Fund, governments and central banks.
"Don't keep looking back," he tells students. "Look over the horizon — that world is yours. Have a go."
Teaching resources
The initiative is also creating community among first-generation faculty and providing resources for teaching first-generation students. The initiative is holding its second symposium on Oct. 17. "Knowing and Supporting Our First Gen Students" will feature a panel discussion with first-generation students, a presentation of current data about first-generation students, and the opportunity for networking and dialogue.
First-generation faculty who are listed in the initiative's directory will be invited; those who have not yet signed up can register online. All faculty can find resources for supporting first-generation students on the initiative's website.
You can find more information and the original article here.
Tags