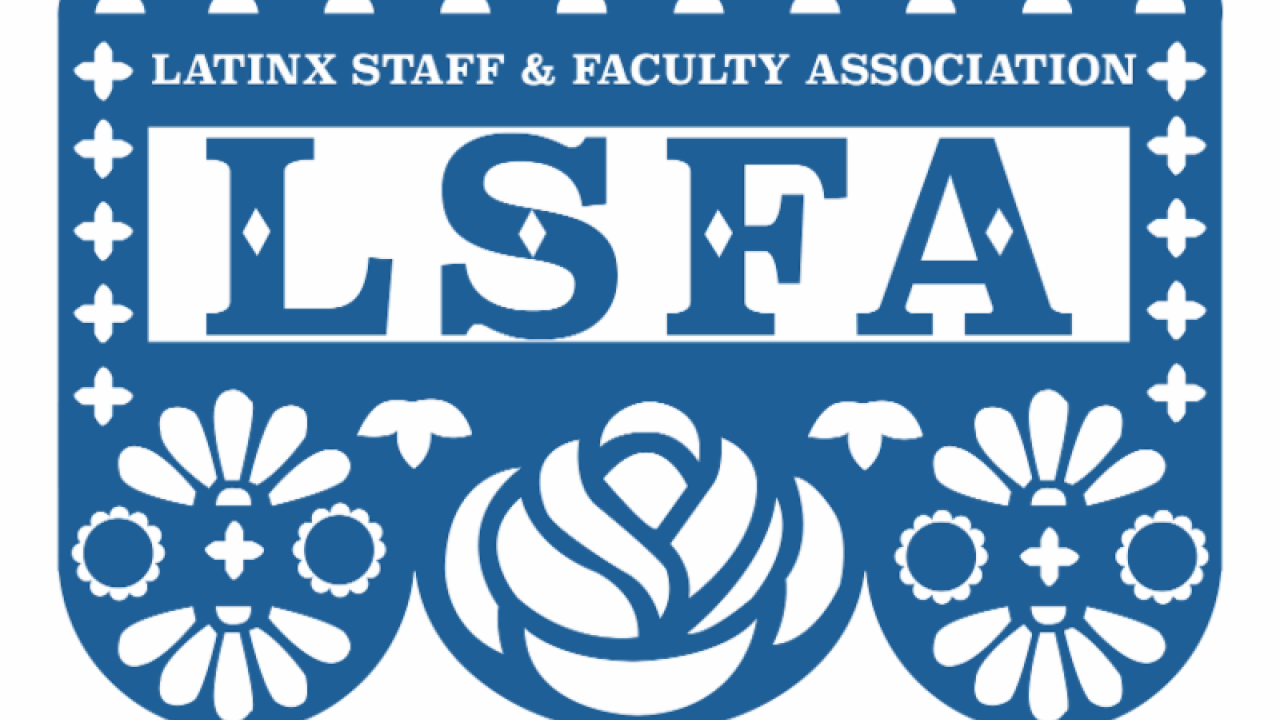 Meet your 2019 - 2020 

LSFA Board
The mission of the Latinx Staff and Faculty Association (LSFA) is to provide information about the campus community and to offer professional guidance to those seeking support or career advancement.
LSFA will act as a collaborative unit and advocate for the concerns and issues at the University and Community level for staff, faculty, and students.
Chair - Roxanne Grijalva (She/Her/Hers)
Roxanne Grijalva is the Transfer Advisor for the Transfer and Reentry Center. Roxanne is alumna of Sacramento State University where she was a transfer student from Woodland Community College, a reentry student and student parent. She received her Bachelor's degree in Social Work and a Master's degree in Higher Education Leadership and Policy. Here at UC Davis, Roxanne is the Transfer Advisor for the Transfer and Reentry Center. She joined LSFA because she found community, opportunity to network, and people to supplement her learning.
Ex-Officio - Dr. Lina Méndez (She/Her/Ella)
Dr. Lina Méndez is the Associate Director for the Center for Chicanx and Latinx Academic Student Success. She attended New Mexico State University for her Bachelor's of Bilingual and Multilingual Education, Harvard University Graduate School of Education for her Master's of Language and Literacy, and UC Davis for her Ph.D of School Organization and Educational Policy. This educational journey has made her deeply committed to helping Chicanx/Latinx students be admitted, persist and most importantly graduate from college. She loves to eat, talk, teach and take walks.
Vice Chair - Carlos C. Garcia (He)
Carlos C. Garcia is the Chief Administrative Officer in the Hart Interdisciplinary Programs. He attended Wayland Baptist University for a B.S. in Occupational Education (Technical Management) and CSUS for his MBA. He has been at UC Davis for over 21 years. He has been able to experience many different organizational environments and has learned from each along the way. Carlos intends to contribute to LSFA through being a resource for staff who are interested in deepening their contributions to daily operations and furthering their careers at UC Davis. He will also advocate for all staff at a campus level to ensure we are moving towards the Chancellor's Strategic Plan Goal 3. 
Treasurer - Erica Ávila (Millán) (She/Her/Hers)
Erica Ávila, who is part of Information and Education Technology (IET), Enterprise Infrastructure Services (EIS), Professional Services team as a Business Systems Analyst contributes on the Continual Service Improvement Team. The team is focused on improving processes and technology used by the IET. She also continues to be part of the operations support team for the department serving telecommunications and classroom audio video services at UC Davis. Erica is also a member of the Gender Equity in IT group at UC Davis. She has a bachelor's degree from Sacramento State with two concentrations: finance and risk management & insurance. Erica has worked in the non-profit industry with interpreting agencies providing services in the healthcare field, and has worked in a nonprofit sector serving domestic violence and sexual assault survivors. Erica was more recently a Reporting Data Analyst at Sutter Health before working at UC Davis. She really likes "helping people break the mentality of 'this is how we've always done it.", which continues to be a valuable perspective within LSFA.
Outreach Chair - Aury Gutierrez-Zavala (She/Her/Hers)
Aury Gutierrez-Zavala is bilingual, English/Spanish. She attained a M.S. in Counseling, specialization in Marriage, Family and Child Counseling (MFCC) and a B.A. in Ethnic Studies with a general concentration and a minor in Spanish at California State University, Sacramento (CSUS). She worked in a community clinic in Yolo County for 12 years as a perinatal clinic manager, social worker and behavioral health clinician before coming to SHCS. She enjoys helping diverse students so they may pursue higher education and gain personal and professional development as well as become more involved and engaged on campus.
Fundraising Chair - Raul Mendoza (He/Him/His)
Raul Mendoza serves as an Assistant Director for SHDS. He is originally from Michoacán Mexico, coming to the states when he was 13 years old. Since then, California and New York have been places he calls home. As a first-generation student, Raul attained his B.A in Anthropology from Chico State and a M.S. in Education (Higher Education) from Fullerton State. Raul joined the Aggie Community in July 2018 as a Resident Director and recently transition to his new position an Assistant Director. Raul uses the opportunities and experiences to guide his work and create avenues to empower and develop professional staff, student leaders and students.
Historian - Jenny Choc (She/Her/Hers)
Jenny Choc works in the Summer Sessions department as the Program Coordinator for Transfer Edge. She was born and raised in South Central Los Angeles to immigrant parents. Jenny is the first in her family to attend college and is a proud Alumni of UC Davis where she studied Spanish, Chicanx Studies, and Education. Most of her work has revolved around college access in the K-12 system. Jenny know utilizes previous experiences to serve incoming UC Davis Transfer Students get a jumpstart on their campus experience and resources.
Secretary - Vince Cardenas (He/Him/His)
Vince Cardenas works in Student Housing & Dining Services as a First Year Experience Coordinator. He is originally from Long Beach, California and has lived here in Sacramento for three years. Vince went to Arizona State University for his B.A. in Communication Studies and retrieved his M.Ed. in Higher Education Administration from Georgia Southern University. He is passionate about representation of Latinx people at the university. He is also always willing to get coffee/tea to learn more about others' experiences here at UC Davis and welcomes anyone to reach out.
We look forward to serving the UC Davis community!
Category
Tags