Latinx Staff and Faculty Association 2020-2021 Board
Meet your 2020 - 2021 

LSFA Board
The mission of the Latinx Staff and Faculty Association (LSFA) is to provide information about the campus community and to offer professional guidance to those seeking support or career advancement.
LSFA will act as a collaborative unit and advocate for the concerns and issues at the University and Community level for staff, faculty, and students.
Chair - Carlos C. Garcia (He)
Over the years that Carlos C. Garcia has been at UC Davis, he has been able to experience many different organizational environments and has learned from each along the way. He, therefore, intends to contribute to LSFA through being a resource for staff who are interested in deepening their contributions to daily operations and furthering their careers at UC Davis. He will also advocate for all staff at a campus level to ensure we are always moving towards the Chancellor's Strategic Plan Goal 3.
Ex-Officio - Roxanne Grijalva (She/Her/Hers)
Roxanne Grijalva is the Transfer Advisor for the Transfer and Reentry Center. As a first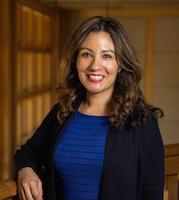 generation student and coming from a low socioeconomic background, Roxanne is passionate in the area of alleviating poverty and in the retention of students in higher education. Roxanne utilizes the strengths based approach and coaching techniques when working with or mentoring students. Roxanne is alumna of Sacramento State University where she was a transfer student from Woodland Community College, a reentry student and student parent. She received her Bachelor's degree in Social Work and a Master's degree in Higher Education Leadership and Policy. Roxanne has experience in administration, working in social services in the K-12 system and working with incarcerated youth in the County of Yolo. Roxanne finds a sense of purpose in the works she does, loves to give back to her community and encourage students to reach their goals. 
Vice Chair - Ignacio/Nacho Alarcón (They/Them)
Ignacio was raised primarily in Pennsylvania and studied philosophy, psychology, and political science as an undergrad. Nacho then completed a Master of Arts degree while working with cultural living-learning communities at Oberlin College, student conflict resolution at the University of Michigan, and student success at The Leadership Center internado outside of Zambrano, Honduras. After this, Ignacio served as a Resident Director and point-person for Undocumented student support at The Evergreen State College before starting at UC Davis. Serving the Latinx community from which they come has been a through line to Nacho's professional experiences. Ignacio has several responsibilities at the AB 540 & Undocumented Student Center, including campus advising+liaisoning, policy advocacy, and oversight for the Mentorship & Professional Development (MPD) Fellowship Program, the UndocuPRIDE Speakers Bureau Fellowship Program, the UndocuAlly Program for Peers (UPP), and more.
Treasurer - Gisela Escalera (She/Her/Hers)
Gisela Escalera leads assessment efforts in Student Housing and Dining Services. She is a UC Davis alumna and is passionate about mentoring youth, education, and personal development. She joined the LSFA to build community on-campus. She has found the LSFA to be a space to connect with others and find inspiration in others' stories of perseverance and success. As a Board member, she intends to help grow the LSFA's presence on-campus and serve the Latinx community at UC Davis.
Fundraising Chair - Daisey Sandoval (She/Her/Hers)
Daisey Sandoval is a Financial Aid Officer at Financial Aid and Scholarships. Daisey obtained her Bachelor's degrees in Spanish and Chicano/a Studies from UC Davis. She is currently pursuing her Master's degree in Higher Educational Leadership at Sacramento State. Daisey joined LSFA as it is a community of empowered individuals who support one another and a great networking opportunity. As the Fundraising Chair, she plans to promote LSFA's mission and vision to support the community.
Outreach Chair - Vacant
Historian - Vanessa Alvarez (She/Her/Ella)
Vanessa Alvarez is an undergraduate academic advisor at the Languages and Literatures department. As a first-generation student and woman of color, she is passionate about working with students with similar backgrounds in higher education. LSFA is a special community that she can identify with and find support in many different ways. Vanessa values LSFA's mission and is excited to contribute to this community as the Historian. She aims to capture the essence of LSFA through pictures and stories to share our community with the rest of the UC Davis campus.
Secretary - Enrique Guzmán (He/Him/His/Él)
Enrique Guzmán is currently working with Student Housing and Dining Services as a Resident Director for the Mahogany Hawthorn Residence Halls. Originally from Compton, CA, Enrique has worked at the University of Arizona, Arizona State University and has worked as a K-12 administrator. Enrique's passions include serving underrepresented students and helping them navigate institutions of education. As the board secretary, Enrique aims to support the mission and vision of LSFA and reach many more Latinx staff and faculty at UC Davis.
Tags