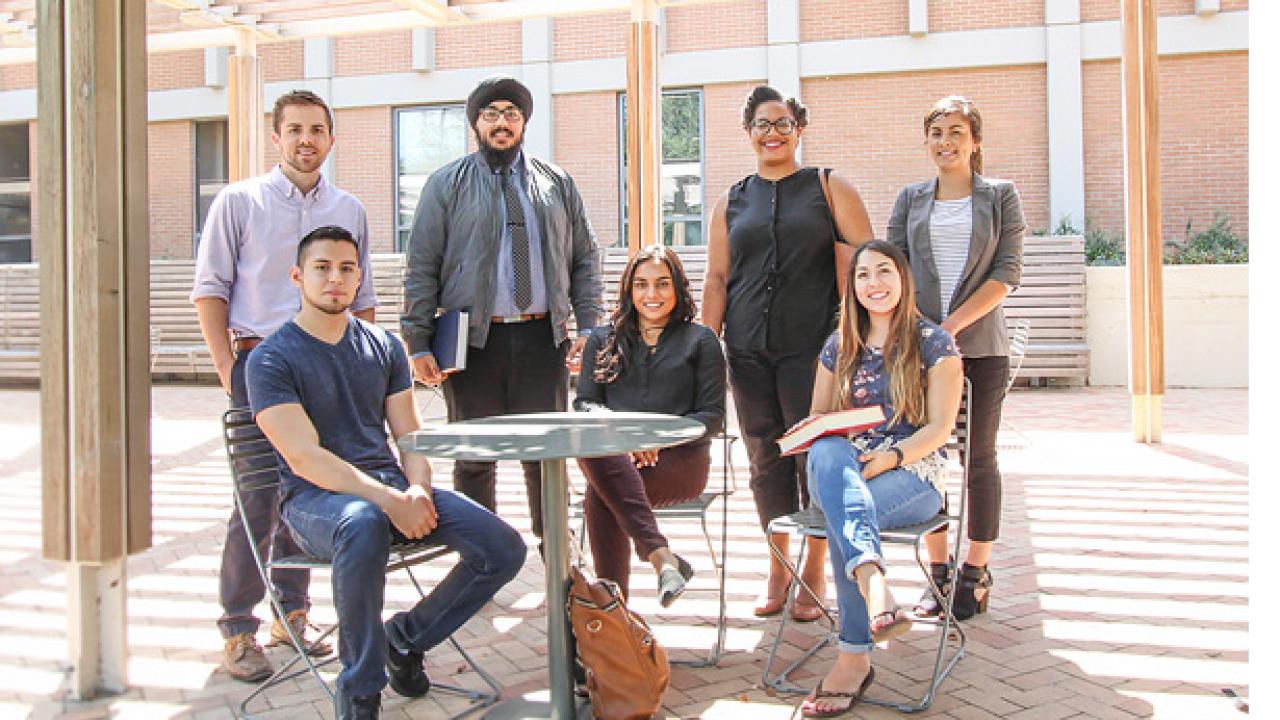 Originally posted by UC Davis School of Law on August 24, 2017
Chosen from more than 3,000 applicants, the new class is an extraordinarily diverse and well-qualified group. Fifty-four percent are students of color, and 58 percent are women. More than 20 percent are first-generation college students. Their median LSAT score is 163, and their median GPA is 3.59.
Members of the entering class arrive with a broad range of life experiences. Eight are veterans of military service.  Seven are international students, and many more have experience studying or teaching abroad. Many arrive with some experience in law, having worked as clerks in law firms, paralegals, or judicial interns, and many have worked with public service nonprofit organizations.
Members of the Class of 2020 include:
Cesar Bautista is an immigrant from Peru who has worked teaching English to first-generation students and as a law intern at El Centro de Communidad in Redwood City. He earned his undergraduate degree in History from UC Santa Cruz.
Marissa Fuentes is a native of Los Angeles and a graduate of UC Santa Cruz with a degree in Environmental Studies. A member of Phi Alpha Delta, the International Pre-Law fraternity, she is passionate about environmental issues and has interned with the California State Assembly and the Environmental Division of the Department of Justice in Washington, D.C.
Janaki Jagannath comes from Fresno, where she coordinated Community Alliance for Agroecology, a coalition of nonprofit groups working to advance justice for farmworker communities in California's environmental and agricultural policies. She has also worked at California Rural Legal Assistance enforcing fair labor standards and environmental justice protections such as access to clean drinking water. A graduate of UC Davis with a degree in International Agricultural Development, she is an artist, musician and novice plant breeder.
Karen Pedraza earned a degree in History from Saint Mary's College and formerly worked for Catholic Charities leading naturalization workshops and helping immigrant students apply for Deferred Action for Childhood Arrivals (DACA). The daughter of migrant farmworkers and an alumna of the King Hall Outreach Program (KHOP), she is inspired to continue her work from the moments she helped improve the lives of workers while organizing and researching with Unite Here.  In the future, she hopes to improve the lives of farmworkers and ensure their access to affordable legal services. 
Princepreet Singh is a graduate of UC Santa Barbara with degrees in Environmental Sciences and Political Science, and an alumnus of the King Hall Outreach Program (KHOP). He grew up as part of a traditional Sikh family in Fairfield and is dedicated to maintaining his connection with that community and to serving immigrant communities through policy and law. He has served as an intern in the California State Assembly as well as with the Sikh American Legal Defense Education Fund.
Sela Steiger is a graduate of Oberlin College with a degree in Africana Studies.  She has a background in education and non-profit administration that includes work in several Bay Area schools and nonprofit organizations, including the Impact Fund, whose mission is to support and develop strategic litigation for social justice.
Paul Tracy is a graduate of the U.S. Air Force Academy and a former combat pilot.  He served six years as a mobility pilot in the Air Force and then worked three years in Washington D.C., as a mobile technology strategy consultant at Deloitte. He also volunteered as a career counselor for veterans at Hire Heroes USA. His wife is an Air Force doctor stationed nearby at Travis Air Force Base.