Elizabeth Vasile
Director, Health Equity Resources & Outreach (HERO) Program, UC Davis Clinical and Translational Science Center (CTSC)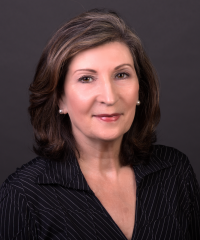 The UC Davis CTSC is a hub for several programs dedicated to translating biomedical knowledge and research into improving human health. I manage a new CTSC program, HERO, focused on strengthening health equity in underserved populations across the life course. In service of this aim, I forge partnerships and networks with internal and external stakeholders, organize public dialogues and learning activities, convene and expand access to community advisory groups, develop strategies and tools to integrate special populations into research, and leverage resources that enhance our capacity for meaningful campus/community collaborations. My work with the UC Davis Office for DEI is primarily through OHEDI and its Anchor Institution Mission, in our shared commitments to integrating the social determinants of health into the design of our initiatives and partnerships with local populations. 
Before joining UC Davis in 2019 I worked at UC Berkeley, where I served as executive director of an NIH-funded social science research center and created and taught a study abroad program in Cuba. Most of my earlier career was in independent consulting for organizational development, strategic planning, and program evaluation of private business and philanthropic initiatives. I am a social scientist by training, and earned a Ph.D. in Geography from UC Berkeley with an emphasis in cultural and historical geography and multiple regional specialties. My dissertation was based on 2 years of Fulbright-funded fieldwork in North Africa.
When not working, I practice and teach yoga, cook my way through memories and dreams and the NY Times recipe archive, and plan the garden.   
Why I do DEI work
Translating across cultures and navigating through the unfamiliar is embedded in my biography. I grew up in 5 countries and 3 languages. I am a first gen college grad and a military veteran. The daughter of an immigrant and refugee––my mother was a Pontian Greek from Smyrna, caught up as an infant in the genocidal 1922 Turkish-Greek conflict and migratory exchange and once again in WWII fleeing the Axis invasion of Northern Greece––I learned from an early age to parse inflections of language, accent and whiteness and to detect the contours of power and privilege undermining the promise of equal opportunity in America. I do DEI work because, despite a learned skepticism, I believe in that promise and I am committed to furthering its fulfillment.
Motto
The struggle itself towards the heights is enough to fill one's heart. One must imagine Sisyphus happy. (Albert Camus)
Social Media
Last updated 26 February 2021