Location
King Hall, Rm 1301 and Virtual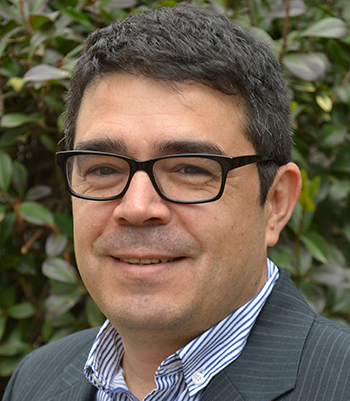 "Advancing Cancer Health Equity Through Community-Focused Research"
Our research group is interested in the study of cancer genetic susceptibility. We use genetic, genomic and functional approaches to identify novel cancer-causing gene and mutations in human populations, to investigate the function of genetic variation associated with disease and to carry out pre-clinical studies aimed at developing better molecularly guided therapies. We are also interested in investigating somatic genetic pathways and clonal architecture of common cancer types. An important number of our studies focus on the genetics and epidemiology of cancer in Latinos, for which we have developed long-standing collaborations with researchers in Latin America and Europe. At the UC Davis School of Medicine, we are active members of our Comprehensive Cancer Center where I am the Associate Director for Basic Science and lead the Latinos United for Cancer Health Advancement (LUCHA) Initiative.
Please contact Nina Bell at nbell@ucdavis.edu with any questions. 
Dr. Luis Carvajal-Carmona is a professor of Biochemistry and Molecular Medicine and holds the Auburn Community Cancer Endowed Chair in Basic Science in the University of California Davis (UCD). He is the Associate Director for the Inclusivity, Diversity, Equity and Accessibility (IDEAL) Office, and the Founder Director of the Latinos United for Cancer Health Advancement (LUCHA) Initiative and of the Center for Advancing Cancer Health Equity at the UCD Comprehensive Cancer Center. At the UCD Clinical and Translation Science Center, he co-directs of the Community Engagement Program. Dr. Carvajal-Carmona specializes on cancer genetics, epidemiology, health disparities and global health. He has discovered multiple cancer susceptibility genes and variants and has published over 100 manuscripts in influential journals such as Nature Genetics, Gastroenterology, American Journal of Human Genetics, Lancet Gastroenterology and Hepatology and PNAS. His main contributions to science include the elucidation of the genetic origins of Latino populations, the discovery of the first common variants increasing risk of colorectal cancer and the identification of a novel familial form of gastric cancer. All his research effort are community-focused following a bench to community approach. In addition to his passionate pursuit for scientific research, Dr. Carvajal-Carmona is a keen supporter of a diverse biomedical research force. He has mentored dozens of undergraduate and graduate students, 95% of whom have been first-generation college graduates and members of under-represented groups. His mentees have been awarded 50+ fellowships and research awards and are all currently pursuing higher education or are employed at leading institutions and companies. In addition to the satisfaction of helping people with his research, Dr. Carvajal-Carmona's most rewarding accomplishment is to see his mentees shine and achieve their dreams. He has been awarded the UCD Chancellor's Award for Excellence in Mentoring Undergraduate Research and the UCD ADVANCE Scholar Award for his outstanding scholarship and mentorship.
Event Category
Tags