Mercedes Piedra, M.S., serves as the Director of Multicultural Education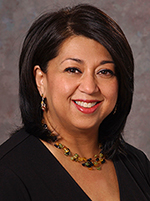 Sacramento Campus. Mercedes is responsible for developing, implementing, managing, and monitoring diversity and inclusion training within UC Davis Health, identifying all educational resources within UC Davis Health/UC Davis pertaining to equity, diversity and inclusion education. She is the Program Manager of the new TPMG-UC Davis Health Physician Pipeline Initiative, an educational pipeline initiative that will help build the next generation of physicians to advance Latino health.
Mercedes has her Masters of Science Degree in Counseling Education focusing on workforce development and organizational management from Sacramento State University.  She's championed nationally recognized academic and research programs to increase underrepresented students, staff and faculty at all levels of California's Higher Education in the fields of science, technology, engineering, mathematics and medicine.  Mercedes has held career positions as program coordinator, counselor and faculty member advocating cultural competence and inclusion to create intuitional excellence by enhancing the diversity of its workforce.  Her hobbies include road cycling and music.