Charlene K. Green, MA, LMFT
Director of Outreach, Recruitment and Retention – School of Medicine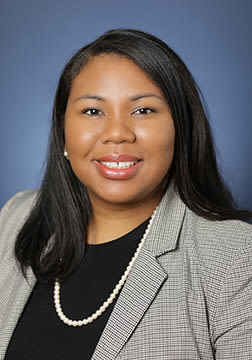 As Director of Outreach, Recruitment and Retention at UC Davis School of Medicine, I oversee programmatic and administrative matters related to admissions, student development and student/resident diversity. I also lead the Community of Practice efforts for UC Davis Health's HRSA funded National Center for a Diverse Healthcare Workforce, facilitating forums and ensuring that stakeholders and community partners achieve success in creating and implementing institutional action plans toward a diverse and inclusive learning environment. I am a proud graduate American River College (A.A. in Liberal Arts w/an emphasis on Social and Behavioral Sciences), California State University, Sacramento (B.A. in Organizational Communication), and University of San Francisco (M.A. in Counseling Psychology). I am currently finishing my up my doctoral studies at Touro University where I am pursuing PsyD in Human and Organizational Psychology. My educational journey, full of pitfalls and detours, has made me more passionate about removing barrier for others. Now, sitting on the other side of the academic perspective, my experiences have kept me incredibly empathetic to students who still face some of the same challenges with support and navigation.  
Why DEI Work?
I have worked throughout my career to outreach to those who feel like they do not have a place in higher education, because that was my story. My roots in DEI work started when I was 20 years old, working the Greater Sacramento Urban League, a workforce development non-profit center. There, I develop my passion for equity by seeing first-hand, the impact obtaining new skills and/or a job had on someone's quality of life. I've continued the work I started at the GSUL in higher education realms. In addition to my current roles, I am very active within the UC Davis Health community and surrounding areas.  I serves as a board member for the African American Faculty and Staff Association and as well as many various institutional committees and work groups. My passion is to serve as a mentor, a voice of equity and a bridge for community engagement.  I have a special interest in diversifying healthcare and addressing healthcare disparities, particularly among women of color. Outside of my work at UC Davis Health, I am an adjunct faculty member at Cosumnes River College, teaching Human Career Development courses and counseling community college scholars to success.
Motto
Each one, teach one.
Social Media
Last updated 26 February 2021